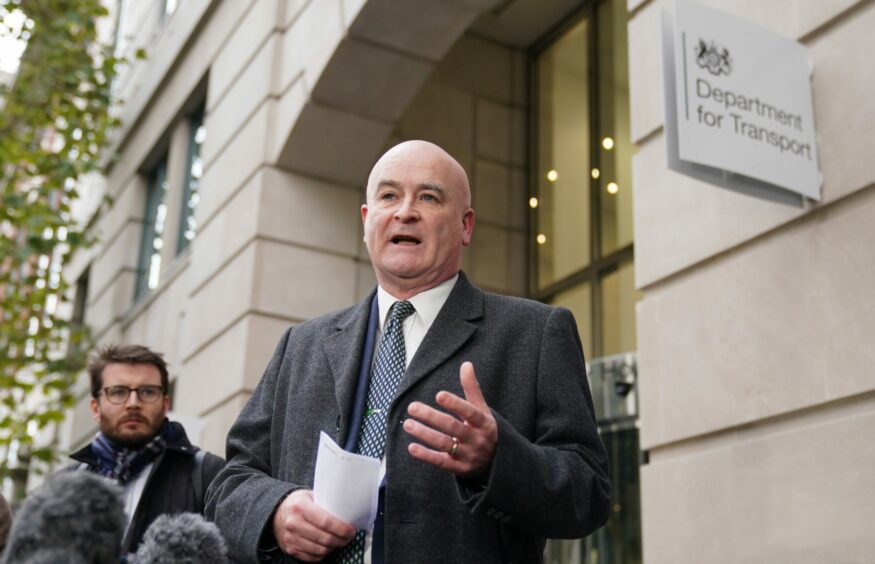 The head of the RMT union says a wave of strike action set to hit the North Sea will be a major test for industrial relations as it looks to protect members from potential discrimination.
General secretary Mick Lynch said the union would be monitoring the response from employers to planned strike action and warned that any victimisation of workers could threaten a just transition.
It comes as 1,350 Unite members are set to walk out between April 24 and 26, in a "tsunami" of industrial action the group has described as "unprecedented".
"We believe that 'Not Required Back' (NRB) is still being practiced by contractors and duty holders in the offshore oil and gas sector," Mr Lynch said in a statement.
"The industry's response to the latest wave of industrial disputes amongst contractors like Stork, Petrofac and Sparrows will be watched very closely by RMT and Unite for any subsequent NRB or other forms of persecution or discrimination against offshore workers who are trade union members.
"This is a key test of industrial relations offshore over the remainder of this decade."
Mr Lynch said the union had not seen any instances of the practice in the renewables sector but maintained that any forms of use in offshore energy must end.
"Otherwise, there is a real risk that NRBs issued on Shell, BP or Total oil and gas assets, for instance, could threaten a just transition for offshore oil and gas workers to the offshore wind and wider renewables sector."
In 2009, an agreement was reached between industry officials and union leaders to ban the practice to help encourage whistleblowers with safety concerns. Yet more than a decade on there are still concerns amongst workers.
Campaigners have since called for an overhaul of UK legislation to enhance worker protections, particularly in the offshore sector where whistleblowing laws do not apply beyond territorial waters and do not include self-employed or off-payroll workers.
Whistleblowing charity Protect warned that this oversight, combined with a lack of any regulatory requirements for companies to have whistleblowing procedures, leaves offshore workers "at the mercy of unscrupulous employers."
Government's 'reluctance to regulate'
RMT has been vocal on seafarers pay and conditions, particularly in light of the P&O Ferries scandal last year.
Asked how the sector has fallen foul of so many loopholes, Mr Lynch added: "Multiple factors effectively legalise seafarer exploitation in the offshore energy supply chains, and the increased blurring of the line between seafarer and project crew in offshore renewables is adding to them.
"Essentially, the different legal jurisdictions for offshore oil and gas and offshore renewables on top of shipowners' addiction to deregulated shipping registers like Cyprus have effectively privatised the high seas at the expense of workers' rights and safety."
Nodding to Protect's findings, he said employment rights within territorial waters are also "weak or inconsistent" and that the UK Government's response to P&O Ferries "highlights a clear reluctance to regulate conditions for seafarers on international routes."
The union has attacked other inconsistencies too – such as the fact that national minimum wage laws apply to seafarers working in the offshore oil and gas supply chain across the entire UK North sea, but do not protect seafarers working on offshore wind farms within the 200-mile UK Exclusive Economic Zone (EEZ).
Meanwhile, Mr Lynch accused the government of "making up immigration law as it goes along whilst imposing conditions such as IR35 on all offshore workers, inside and outside of territorial waters."
Tax specialists Qdos named the off-payroll tax legislation as the biggest concern of 2023 for contractors, despite the rising cost of fuel bills.
Instead, he called for a system of cabotage that would "protect pay, roster patterns and other terms and conditions" within the supply chain for offshore energy.
This should be also extended to activities on the UK Continental Shelf and UK EEZ which are supported by Scottish and UK ports, he said.
RMT in turn called on Crown Estate Scotland and Marine Scotland to introduce local employment and training conditions as part of wind leasing and licensing agreements.
"This would kick start manufacturing investment and maximise the employment and economic benefits of the energy transition for workers across Scotland and the UK," he added.
Recommended for you

Safety concerns for offshore wind as HSE has only four inspectors on-hand