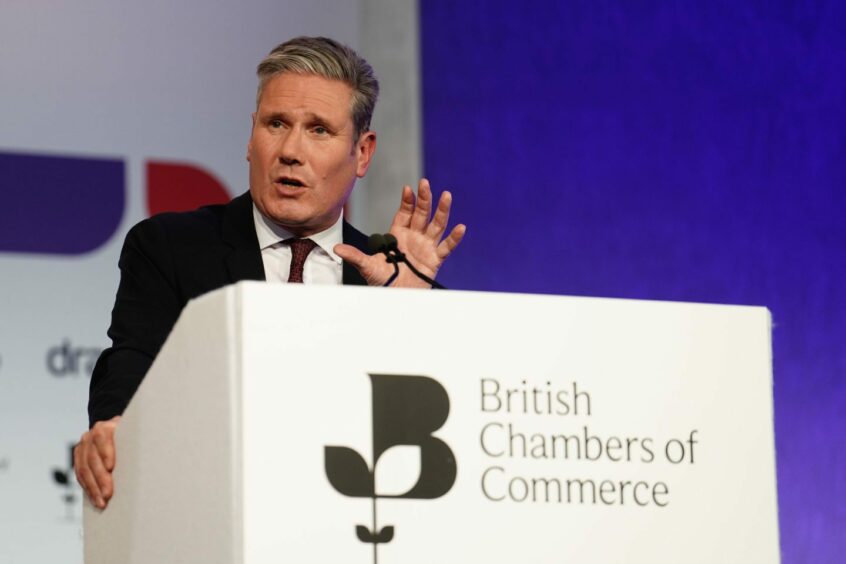 The man who may become the next Prime Minister has committed to a visit to Aberdeen to discuss the energy sector's concerns over his party's policies.
Sir Keir Starmer, leader of the Labour party, said "I'll see you in Aberdeen" when asked whether he'd commit to a visit, during a British Chambers of Commerce event last week.
Russell Borthwick, CEO of the Aberdeen and Grampian Chamber of Commerce (AGCC), asked Sir Keir for the commitment, highlighting the risk to jobs in North-east Scotland over UK Government energy policy.
A report from the chamber this week highlighted that members do not believe any UK party has the right policies to deliver the energy transition.
It also notes the windfall tax as one of the primary drivers for confidence in the UK North Sea plummeting over the last 12 months.
Labour, polling to win the next general election expected next year, has said it will block new oil and gas and impose even harsher tax policies on the industry.
'The worst thing we can do is not take this seriously'
Sir Keir said he would come to Aberdeen to discuss the challenges and opportunities.
"I've been to Aberdeen previously to talk this through, a couple of years ago now. Very happy to come back.
"I absolutely agree with your underpinning concern, which is that as we transition it's got to be a fair and just transition.
"There may be those on well-paid secure jobs in oil and gas (who are) anxious about what happens if we transition.
"I actually think it's being handled well. If you look at offshore wind turbines, if you look at floating wind turbines, the skills… we've got offshore skills like no other country and these are in the places the transition piece is taking place, so the worst thing we can do is not to take this seriously.
"The worst thing you can do is not engage with it and (not) have a plan."
The Labour party has been asked to confirm when Sir Keir Starmer is expected in Aberdeen.
No firm date for Sir Keir Starmer in Aberdeen
Sir Keir told Mr Borthwick the UK must "never, ever" make the same mistake it did with the decline of the coal industry – shifting away without a transition plan for workers – which is "still felt" in communities in the UK.
Mr Borthwick told Sir Keir that around a quarter of the UK's energy workforce is in the north-east of Scotland.
"There's already really clear evidence emerging that current policies are putting tens of thousands of those jobs at risk and actually cancelling or diverting billions of pounds of renewable energy investment either away from the UK or out altogether."
The chamber's energy transition survey, issued this week, showed a drop in confidence in the UK North Sea, in large part due to government policies.
AGCC and KPMG warned that this, coupled with better conditions overseas, risks skills and investment being lost.
Recommended for you

Scottish energy minister lambasts 'tone deaf' Labour North Sea policy