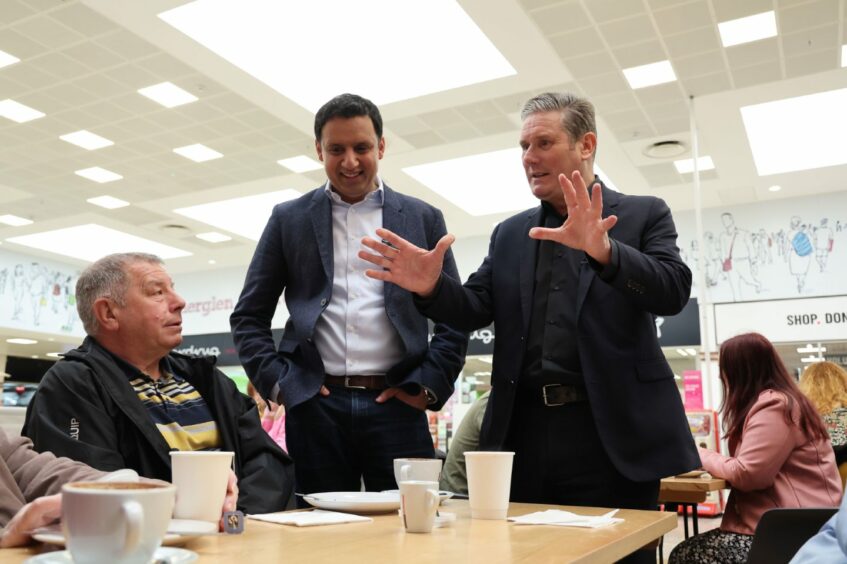 Scottish Labour leader Anas Sarwar says the party would honour any new oil and gas licences granted in the near future, including for the controversial Rosebank field.
Backed by Norwegian energy giant Equinor, the west-of-Shetland field is expected to be granted government approval, though remains hugely controversial in terms of its potential climate impact.
However reports last week suggest Labour would oppose "all new North Sea oil and gas developments" as part of a forthcoming net-zero energy policy announcement – leading to questions over the development's future.
Asked in an interview on Tuesday whether the Rosebank field would still go ahead under a Labour government, Mr Sarwar said: "People keep saying that the reason we talk about new licences is that it might play down investment in the North Sea and it might not give confidence to individual businesses.
"We understand businesses have to make longer-term decisions, so we would honour any licences that are granted.
"That demonstrates that we are not suggesting a cliff edge; we are recognising that oil and gas will play a role for decades to come.
"But the future for our energy supply lies in hydrogen, onshore and offshore wind, carbon capture, I would argue nuclear power as well."
NEW: Controversial Rosebank oil field would go ahead under Labour government IF it gets approval.

Anas Sarwar confirms if Labour wins election it would ban new North Sea oil and gas licenses.

But would 'honour' existing ones – including massive Rosebank development pic.twitter.com/zEVeo3yoDK

— Representing Border (@ITVBorderRB) June 6, 2023
Pressed on whether that decision includes Rosebank, he added: "There is no decision yet made on Rosebank so our argument would be to invest in those new technologies.
"But are saying we recognise we're not in government right now and if we were in government we would honour any new licences that are granted because businesses need to have that confidence to make those strategic investments.
Prime Minister Rishi Sunak said last month that it makes "absolutely no sense to not invest" in resources in the UK, as he faced questions plans for field. Yet in April 40 European Union lawmakers called on the PM to scrap the plans, which they said threaten climate targets.
Oil here for 'decades to come'
Mr Sarwar's comments follow those of Labour leader Keir Starmer, who said that oil and gas will be part of the UK energy mix into the 2050s.
Addressing the GMB Congress in Brighton on Tuesday, he set out his vision for greater workforce protections under a Labour government and his plans to make the UK "a clean energy superpower", though did not offer further details on plans to end licensing.
It follows criticism from GMB boss Gary Smith who said on Sunday that Labour had been "naive" regarding its stance, showing a "lack of intellectual rigour" in the proposals.
However the policy has secured the support of Lord Deben, chairman of the Climate Change Committee, who said this week it is "the right thing to do".
In a Q&A session following his address Tam, of GMB Scotland, told Mr Starmer that his policy posed a "threat to Scottish jobs and UK energy security".
"When the current field are depleted and Scotland's oil and gas jobs evaporate, what will you tell our members working in these sectors and the communities who will be decimated?" he asked.
Mr Starmer replied that he "absolutely share[s]" workforce concerns around future jobs.
"I want to be absolutely clear: oil and gas are going to be part of the mix for decades to come, into the 2050s. and I don't think that part of our argument is heard clearly enough," he continued.
"But at the heart of your question Tam is this crucial issue: what happens next? What I will never let happen is a repeat of what happened in coal mining, where an industry came to an end with no clear plan for the future, and we're still living with the consequences. We cannot allow that to happen."
He said the UK now had an opportunity to "seize the next generation of jobs" in nuclear and renewables, but faced increased global competition – particularly in the face of the US' Inflation Reduction Act and efforts within the EU.
"The is race on for the next generation of jobs and we need to be in that race," he added, promising "hundreds of thousands" of roles via the creation of a state-backed developer, GB Energy.
Yet according to the North Sea Transition Authority, current reserves in the UK will only sustain the industry through to 2030 without new projects being brought online.
Commenting on the Congress, Offshore Energies UK CEO David Whitehouse said: "It's good and welcome that Sir Keir Starmer and the Labour party have reiterated commitments to work with industry. We want to meet with him because we now need Labour's sentiment to match up with the substance of their plans.
"As we build that future there is no simple choice between oil and gas on the one hand and renewables on the other. The reality is that to keep the lights on and grow our economy, we need both.
"By investing in homegrown production, we avoid costlier, less secure and higher carbon footprint imports while supporting the infrastructure we need to make cleaner, more affordable energy in the UK, for the UK."
Backing UK wind supply chains
Turning to wind, Mr Starmer noted that turbines at Scotland's Whitelee onshore project were not built in the UK – something he should not happen again.
He also rejected a call from another Congress member for a moratorium on new offshore wind until UK jobs were secured.
"I don't actually think a moratorium is the way forward," he said.
"But I do think that we've got to use vehicles like GB Energy, that will be a publicly-owned vehicle, where we determine where the jobs are to ensure that they are here in the UK, and that we have incentives in contracts, to look at supply chains and where the jobs are for the supply chains."
It comes amid ongoing frustration from unions that much of the UK's wind sector manufacturing still takes place abroad.