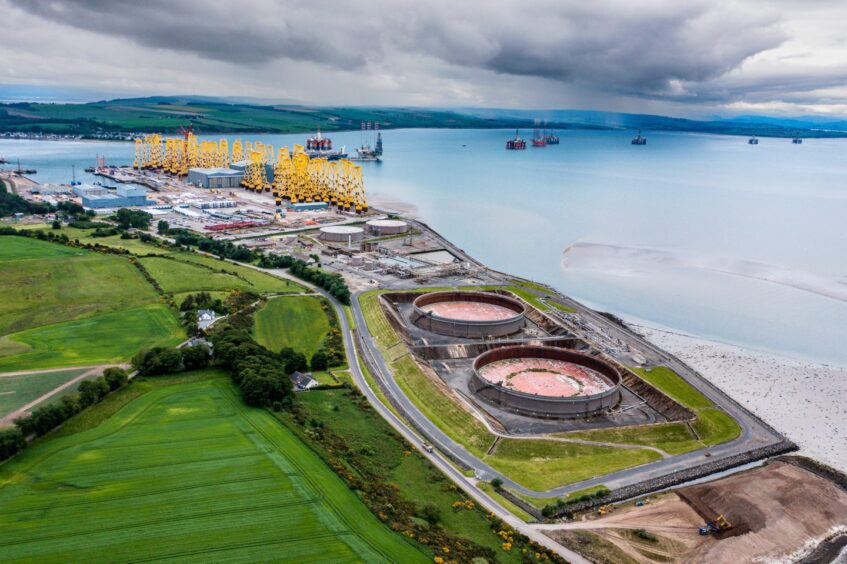 Freshly transformed following the exit of former venture partner Sinopec, Repsol Resources UK is looking to the future of its operations in the North Sea.
With a spate of assets reaching the end of their life – and some eyeing the beginning of a new net-zero focused purpose – there is no shortage of work to be done.
Repsol has live programmes underway for the Beatrice, Buchan and Hannay, Fulmar, Saltire, Tartan, Beauly and Burghley developments according to its website, part of what the company has described as "one of the North Sea's most ambitious decommissioning programmes" of the coming years.
Oversight of that work falls to newly appointed head of decommissioning Shreeram Lom, who took up the role in March having formerly been decommissioning projects manager with the company's former Repsol Sinopec incarnation since 2021.
Mr Lom has some 32 years of experience in asset management, operations, commissioning and decommissioning of offshore and onshore oil and gas projects, including a number of international roles with Repsol in Malaysia, Trinidad, Indonesia and Venezuela.
In 2022 he says the group launched a new decommissioning operating model to reinforce its ability to manage the upcoming wave of activity.
"We are actively unlocking and delivering one of the largest decommissioning portfolios in the UK Continental Shelf at an unparalleled pace in the industry, working collaboratively within every sector of the decommissioning supply chain," he told Energy Voice.
Over the next five years it aims to complete the abandonment of 139 wells and the full decommissioning of its Nigg onshore terminal in the Cromarty Firth, amongst other activities.
The terminal was commissioned in 1981 by the British National Oil Corporation as part of the Beatrice development, which ceased production in 2016. Liberty Industrial kicked off work to remediate the site this year and is due to complete in 2025, at which point the site will be handed back to leaseholder Global Energy Group.
Meanwhile Archer recently secured a $165m contract for the plugging and abandonment (P&A) of 30 wells at Fulmar and a further two at Halley, potentially starting as early as next summer and expected to last four or five years.
"Over the next 10 years Repsol Sinopec's expenditure on decommissioning activities is forecast to be the second highest among its peers in UKCS," he noted. Indeed, speaking to Energy Voice last year chief executive Jose Luis Muñoz said the scale of the operations would be among the "top three" in the basin.
"It is an exciting time to be a part of the organisation and the industry," Mr Lom affirmed.
"Decommissioning and late-life asset management activity is increasing and presents one of the few areas of guaranteed growth in our industry and region."
Collaboration for innovation
Even with the scale of the work ongoing across the North Sea, the sector faces significant headwinds in terms of cost management and the capacity of the supply chain, particularly as competition increases for assets like offshore vessels.
However, Mr Lom suggested the company remains confident in its ability to meet those challenges
"We see our decommissioning portfolio as an opportunity," he said.
"While we do have some specific challenges such as inflationary pressures and supply chain capacity constraints in certain areas, we are actively and collaboratively working with the supply chain to secure resources for assured delivery of the decommissioning scope of work."
That has seen the operator work with its suppliers to deploy "industry-first" solutions such as new or innovative contract models, as well as Repsol's investment in new tools and technology to support the supply chain growth and maturity.
"Especially noteworthy are some of the contracts where we have collaborated and incentivised the contractor to see ways for emission reduction and sensible risk sharing contract models that drive technological innovation," he added.
In one instance he pointed to an award to DeepOcean and James Fisher Decommissioning for the phase 3 abandonment of subsea wells which supported the use of new 'Seabass' environmental plugging tool for the first time.
"Investing in technology is pivotal to releasing value and we are not afraid to go first.
"As well as the new technologies Repsol Sinopec has already supported launching into the market – like SeaBass and thermite plugs – we are actively engaging with the supply chain and across industry to identify, test and advance potential technologies for the future."
"We are engaging across the operator community to encourage others to take a proactive approach to technology rather than avoid being 'first'.
"By demonstrating value over risk, the leadership team have supported new technologies on several occasions and are actively encouraging the supply chain to come forward with new technologies as part of their proposals."
Flotta work to do
In addition to being a "best in class" operator of efficient decommissioning, Mr Lom says Repsol intends to accomplish that this "whilst contributing to the UK's domestic energy security."
"Our objective is to support transition towards net zero and for us right now that means focussing mainly on emission reductions from our infrastructure.
"This includes looking at how we can operate our existing plant more efficiently, making improvements to existing plant, investigating alternative sources of power for our infrastructure, and repurposing of equipment and business diversification options.
"We measure our success against the government's aspirations for Net Zero."
In some cases that will see assets repurposed into vital net-zero infrastructure.
Plans have been in the works for some time to redevelop its Flotta terminal on Orkney as a hydrogen production and export site, producing the clean fuel using energy from offshore wind.
Backed by Repsol, TotalEnergies and Corio Generation Limited, the project has the potential to establish over 1.5GW of electrolytic hydrogen production capacity, equating to over 200,000 tonnes of green hydrogen annually.
Along with the hydrogen hub, the development of an ultra deep-water quay is also set to cement its position as a "world-class" energy transition facility for years to come, Repsol says.
The plans, which involve creating 600m of new quay with 15m water depth as well as 20 hectares of onshore laydown space will aid decommissioning and offshore wind developments, as well as offshore logistics.
Repsol's efforts have been capped off most recently by its announcement as one of six finalists in OEUK's Excellence in Decommissioning Awards – the winner of which will be announced at the organisation's November decom event.
Recommended for you

ORE finds declining supply chain confidence amid 'challenging' year for wind