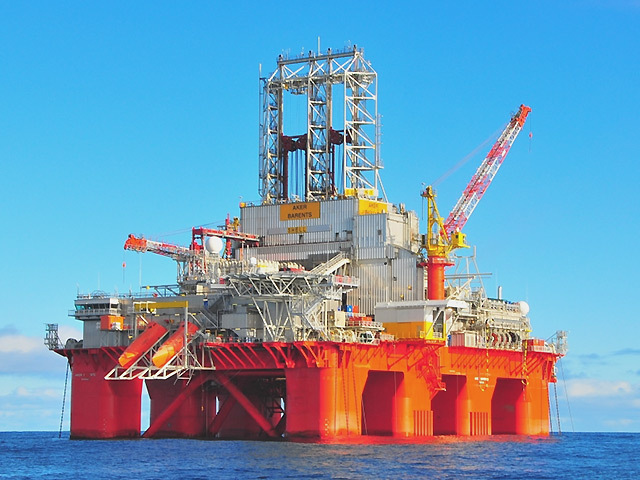 TotalEnergies (PARIS: TTE) could be in line for a "significant boost" if a discovery is made at a key West of Shetland prospect.
Analysts have given their thoughts on the keenly anticipated Benriach play, which was spudded by the French supermajor last month.
Previously hailed as a UK North Sea "well to watch", the West of Shetland prospect is estimated to hold mid-case resources of 638 billion cubic feet of gas.
Drilling at Benriach got underway in March using the Transocean Barents rig, and is expected to wrap up between July and September.
It is hoped the play will open up follow-on prospects in the Laggan-Tormore region, similar to Deltic Energy's Pensacola prospect in the Southern North Sea.
Dave Moseley, vice president of North Sea research at Welligence, said: "Benriach is a follow-on prospect in the same play as the 2018 Glendronach discovery, targeting the Lower Cretaceous Royal Sovereign Formation, and a discovery would see additional prospects in the same play partially de-risked. At 638 bcf (P50), success case volumes are large and it has the potential to extend the productive life of the Laggan-Tormore infrastructure well into the 2030s.
"Such a discovery would be a significant boost for operator TotalEnergies, which has been seeking additional gas for the infrastructure following the discovery of an oil rim in Tormore. For partners Kistos and Rockrose, a discovery at Benriach in line with pre-drill estimates would provide a material uplift to volumes in their gas focussed portfolios."
Among the prospects that would benefit from success at Benriach are Cardhu and Craigellachie, according to Wood Mackenzie.
It added: "A further well to watch in the coming months will be BP's Ben Lawers exploration well, currently being drilled to the south of the Fionaven field. Success here could open up further opportunities in the area for BP.
"There has been no E&A activity West of Shetland for several years so the return of exploration drilling to the area is a positive sign. The last exploration targeted by TotalEnergies in the area was Glendronach, which was successfully drilled in 2018. We anticipate an uptick in exploration activity across the North Sea in 2023 as explorers look to make the most of investment allowances."
Don't get carried away
But Mr Moseley also tempered expectations around a potential discovery, pointing to experiences at Glendronach.
Once billed as the largest discovery West of Shetland in a decade, the prospect subsequently suffered a huge write-down.
Upon discovery the field, TotalEnergies said it had the potential to produce 1 trillion cubic feet of gas, or about 175million barrels of oil equivalent.
But later appraisals cut, Glendronach's recoverable resources by 40%, and a final investment decision on the field is still to be taken, despite plans to make a call in 2020.
Mr Moseley also played down the chances of success at Benriach heralding a flurry of exploration activity West of Shetland.
He said: "Volumes in Glendronach were highly overestimated at the time of discovery and were subsequently downgraded from 1 tcf to <100 bcf, so in the success case at Benriach, an appraisal programme will be needed to confirm volumes.
"Current low levels of exploration activity West of Shetlands, which are party a result of high commercial thresholds, are not expected to materially change in the case of a large discovery at Benriach. However, success would incentivise further drilling to better understand the extent of the play."
Could add years to Shetland Gas Plant
Should Benriach land as planned though, it has the "potential to be one of the largest gas discoveries to date in the Greater Laggan Area", WoodMac said.
It is also "ideally located" near to existing infrastructure, with a tie back to an existing field, with gas exported to the Shetland Gas Plant, the most likely development option.
WoodMac added: "If Benriach is successful, and proceeds to development, there is also the potential for operational life of the other Greater Laggan Area fields (Laggan, Tormore, Glenlivet and Edradour) and the Shetland Gas Plant to be extended.
"After the issues experienced with Glendronach, success at Benriach, and the pre-FID Victory gas field, could be critical for the Shetland Gas Plant in terms of securing future throughput and extending operational life of what is a key piece of infrastructure.
"Appetite for West of Shetland developments (over and above the likes of Rosebank and Cambo) has been increasing recently, with Shell acquiring the Victory gas field (through their acquisition of Corallian Resources in 2022), Ithaca assessing both the Tornado gas discovery and Tuck gas prospect and Prax acquiring Hurricane Energy."
Recommended for you

UK's 'adverse changes' in fiscal environment prompt West of Shetland shake up