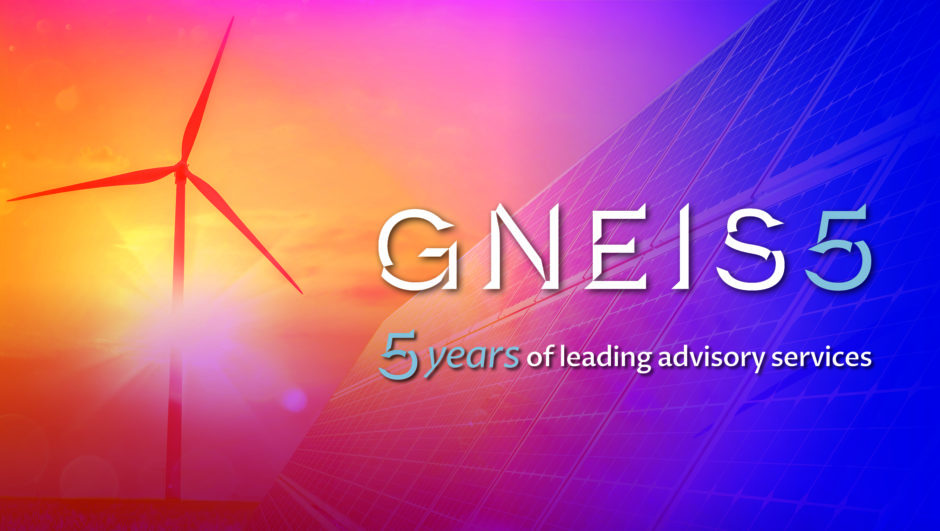 Gneiss Energy ("Gneiss") celebrates its five-year anniversary hot off the heels of announcing its 10th transaction of 2021, representing a productive start to 2021 for the advisory firm across all of its sector teams.
Gneiss has advised on an extensive range of global transactions in 2021 across the wider energy sector and industrial support services. Recent notable transactions include advising Oaktree Capital and Sixth Street-backed Decipher Energy on its sale to Tailwind Energy, advising Gem Containers on the sale of their ISO container fleet to Arcus Infrastructure-backed Peacock Asset Company and, earlier this week, advising Scirocco Energy on their investment into Energy Acquisitions Group, a specialist biogas asset acquisition and operating vehicle.
Established in May 2016 by former Senior Managing Director and Head of Natural Resources for EMEA at Macquarie Capital, Jon Fitzpatrick, the Edinburgh and London-based advisory firm has seen remarkable growth over the last five years. Gneiss now comprises a team of over 20 highly-skilled corporate finance and industry professionals servicing an array of public and private clients, from start-ups to large listed and private equity-backed entities, within the energy and natural resources sectors.
Early deal flow laying the foundations
The initial years at the firm consisted of impressive early deal flow, including a landmark project supporting RockRose Energy on their ambitious acquisition programme, executing five deals over a two-year period to establish itself as one of the leading independent oil & gas companies in the North Sea. Gneiss advised the business following its IPO in evaluating and transacting on a number of asset packages with Idemitsu, Dana Petroleum, Egerton Energy, Sojitz and Dyas.
Since then, the Company has delivered a myriad of M&A, A&D and financing deals for its client base across a broad range of geographies. Notable deals have been executed in the North Sea with the farmout of Deltic Energy's southern gas basin acreage to Shell, the sale of Decipher Energy to Tailwind Energy and Bahamas Petroleum's all-share merger with Columbus Energy in 2020.
Embracing the energy change
A significant merger in 2018 with renewables business Lonborough Capital, co-founded by former Morgan Stanley banker Andrew Coull, allowed the firm to strengthen its reputation in the renewables sector and at the same time provided Gneiss with major deal flow in this pivotal growth area for the business.
Gneiss' first major deal in the renewables space was advising on the disposal of Green Power's operational 46MW wind farm to RPM Railpen in March 2020 and further engagements have covered projects at all stages of development in solar, hydro and energy from waste.
Gneiss' renewables team have also been actively advising the firm's wider client base on strategies to support the energy transition including corporate and project acquisitions and related financing. In early 2021, this saw the team work with Coro Energy plc to pivot their business away from traditional hydrocarbons and focus on renewable projects in South East Asia, culminating in the acquisition of project developer Global Energy Partnership including its Philippines solar and wind portfolio with a significant capital raise of £6 million.
Expanding the team
Over the course of five years, Gneiss has expanded its team to a group of over 20 capable and skilled corporate finance and energy professionals, offering clients an impressive range of skillsets and experience to draw from within the wider team. Furthermore, the successful Gneiss internship programme is already in its third year with the firm having previously offered two full time positions to members of the previous years' intake.
The firm has focussed on bringing in a number of respected corporate finance leaders to broaden its service offering. Alongside the addition of Andrew Coull, another notable hire was the appointment of former HSBC banker, Barry Wingate, charged with a remit of developing the Services & Infrastructure team. Since joining the team, Barry has successfully utilised his wealth of connections gained during a career advising on international and cross-border M&A and capital markets transactions, advising on the sale of Delta-Simons Environmental Consultants, a fast-growing multidisciplinary provider of environmental and sustainability consulting services, and the sale of Gem Containers to Singapore based Peacock Asset Company.
Highlighting the firm's continued growth despite a challenging current economic climate, Gneiss has continued to attract top industry talent with the appointment of David Cunningham as Director of Renewables, Cleantech & Sustainability. Previously Investment Manager at Wood Plc, David has over 23 years of experience in equity, debt and structured finance transactions and will continue to expand the firm's capabilities in the renewables and cleantech sector.
Here's to the next five years!
With an ever-growing client base, two offices in the UK and global sector coverage, the future at Gneiss Energy looks bright as the firm continues to deliver leading advisory services at a pivotal moment for the energy sector.
Recommended for you

PD&MS wins three-year deal to support Vattenfall offshore wind farms