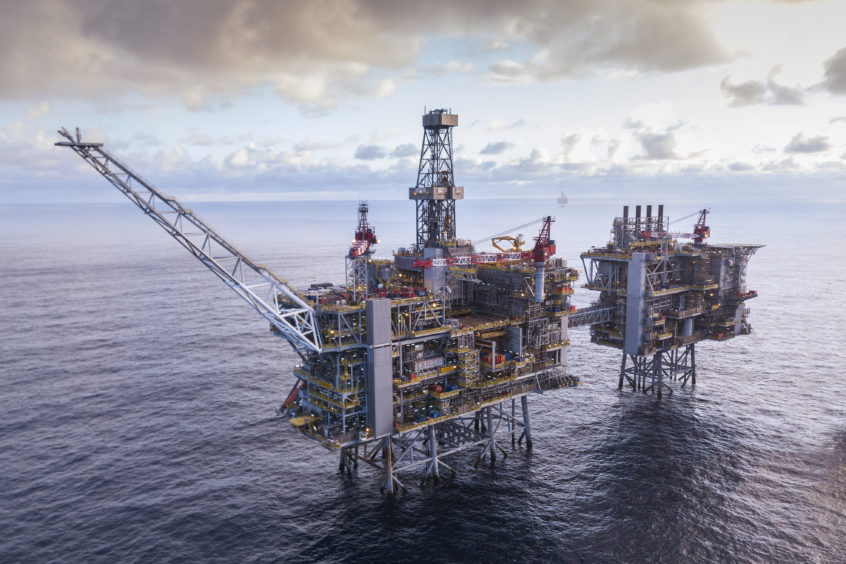 Ambitious plans for a new Energy Hub have been unveiled with hopes for hundreds of jobs and to make giant oil and gas fields in the West of Shetland "net zero by 2030".
Shetland Council and the Oil and Gas Technology Centre (OGTC) have agreed to work together on a concept for the new site, aimed to create 1,750 jobs on the islands by 2050, with "many more" at regional level.
An investment decision will come after feasibility studies over the next two to three years.
The centre will focus on renewables and reducing emissions from offshore platforms and, within that, the group has said it "could make West of Shetland oil and gas assets net zero by 2030", which represent some of the largest producers in the UK.
The OGTC said "industry is being consulted on an ongoing basis", but did not elaborate on how the proposals would speed up the electrification process.
Such a move would involve converting the likes of BP's eight billion barrel (in place) Clair field, which started up its second phase in 2018, as well as its Glen Lyon and Foinaven assets in the region.
It would also have implications for future developments like Equinor's 300million-barrel (recoverable) Rosebank project, considered the largest untapped discovery in UK waters.
Other producers like Premier Oil's Solan and Hurricane Energy's Lancaster would also be affected.
BP's outgoing North Sea boss Ariel Flores has previously hinted at plans on using platform electrification in the West of Shetland and Central North Sea.
A spokesman said BP is "already in action" on reducing its North Sea emissions and its path to net zero, adding it "will continue to work with our industry colleagues and other stakeholders to help the region realise its wider net zero ambitions."
Shetland Council and the OGTC said they hope to use platform electrification for offshore power, rather than combustion, to reach that goal.
The pair cited the planned Shetland to Mainland HVDC Interconnector, with the aim to export excess power from that offshore.
The cable has not yet been rubber stamped by Ofgem but is expected to be approved after SSE Renewables pledged £600m in the Viking Onshore Wind Project, which the connector will support.
Although ambitious, Shetland councillor Robbie McGregor thinks such a goal is needed to help drive change.
He said: "It's up to consultation to ascertain whether that's possible or not.
"Ambitious targets are sometimes the way to start discussion. I can understand one side saying it will be challenging if not impossible, but I am sure discussion can bring this further forward. "
"Local, regional and national" significance
Discussions are now taking place with "a range of potential stakeholders" with the next phase being project planning.
A Shetland Council spokesman said they are estimating "1,750 local jobs at 2050", while "many more" will be required outside Shetland at regional level.
Feasibility studies over the next two to three years will help planners understand cost structures, skills and the scale needed, he added.
An investment decision will be taken thereafter.
Steven Coutts, leader of Shetland Islands Council, said: "This is exactly the boost that our economy needs at this time. I am delighted that the Project has moved so fast since the Council set it up earlier in the year as the opportunities are massive and the engagement is very strong."
The group said it will benefit the local community and wider supply chain "securing employment and energy security of significance at a local, regional and national scale".
It will also focus on areas such as renewable power, hydrogen development as a clean fuel and potential offshore carbon capture and storage (CCS) projects to the East of Shetland.
It comes as the industry last week unveiled plans to halve UK oil and gas emissions by halve by 2030.
Colette Cohen, chief executive of the OGTC, added: "Energy Hubs are an exciting concept, which have the potential to accelerate the transition of our industry to a net zero future, while also supporting the UK's net zero ambitions.
"The energy hub concept is a priority, working in partnership with industry, the regulators and research organisations, it will accelerate the development of key technology to create an integrated energy future for Scotland and enable the region to transition to a Hydrogen economy."
Recommended for you

West of Shetland oilfields due for $500m value bump from electrification