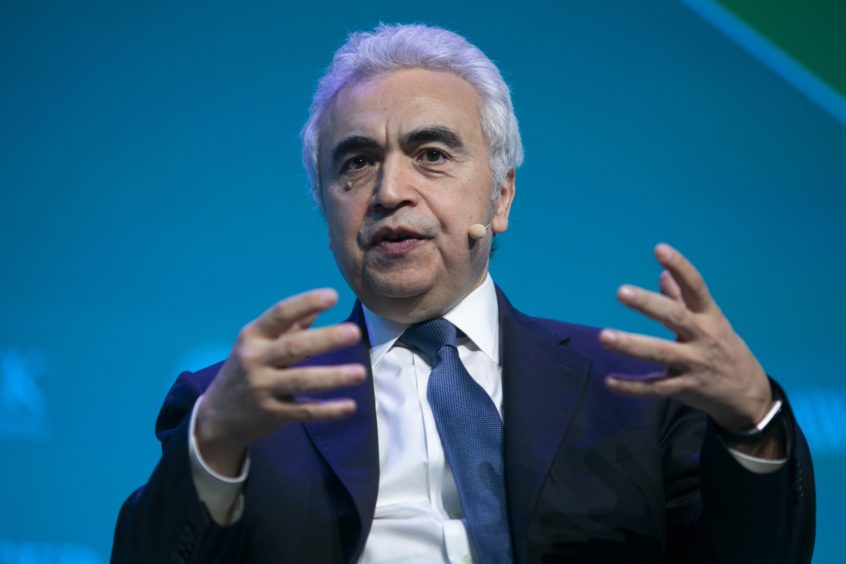 The International Energy Agency (IEA) has warned that oil demand could be pushed back to pre-crisis levels without significant policy changes.
In its flagship World Energy Outlook Report, the organisation said global energy demand is set to drop 5% this year.
Renewables take "starring roles" in all of the IEA scenarios going forward, with solar becoming the "new king".
However, executive director Fatih Birol warned that "without a large shift in government policies, there is no sign of a rapid decline" in oil demand.
"Based on today's policy settings, a global economic rebound would soon push oil demand back to pre-crisis levels."
Oil demand growth is expected to end next decade, Dr Birol added, and will remain vulnerable to economic uncertainties caused by Covid.
However natural gas demand is projected to grow significantly, mainly in Asia.
The IEA said that the Covid-19 crisis has "left scars that will last for years to come" but whether it helps or hinders international climate goals "will depend on how governments respond to today's challenges".
With global energy demand dropping a projected 5% this year, related CO2 emissions is expected to fall by 7%.
However, the World Energy Outlook report sets out that the world is "still a long way from a sustainable recovery", with a step change in clean energy investment needed.
The IEA said the UK, other parts of Europe, Canada, Korea and New Zealand were among just a handful of countries that have put this prominently in their plans.
The IEA report sets out four scenarios which look at the potential effects of the pandemic and how policies may impact climate goals.
The organisation warned that low economic growth has only temporarily supressed emissions and that the world's most vulnerable populations suffer for it.
For example, the pandemic has reversed years of delines in the number of people in Sub-Saharan Africa without electricity, while rising poverty levels have made electricity access unnafodable to 100million people worldwide.
In the IEA's "sustainable development scenario", which shows how to put the world on track to achieving its sustainable energy goals, the world would have a rapid growth in solar, wind and energy efficiencies over the next decade.
It would also see major scaling up of hydrogen, carbon capture and storage and new momentum behind nuclear.
A step further is the case that would see net zero emissions in most countries by 2050 and globally in 2070, where "electrification, innovation, behaviour changes and massive efficiency gains would all play roles".
Dr Birol said: "Despite a record drop in global emissions this year, the world is far from doing enough to put them into decisive decline. The economic downturn has temporarily suppressed emissions, but low economic growth is not a low-emissions strategy – it is a strategy that would only serve to further impoverish the world's most vulnerable populations.
"Only faster structural changes to the way we produce and consume energy can break the emissions trend for good. Governments have the capacity and the responsibility to take decisive actions to accelerate clean energy transitions and put the world on a path to reaching our climate goals, including net-zero emissions."
Recommended for you

The global energy crisis may get worse, IEA's Birol warns