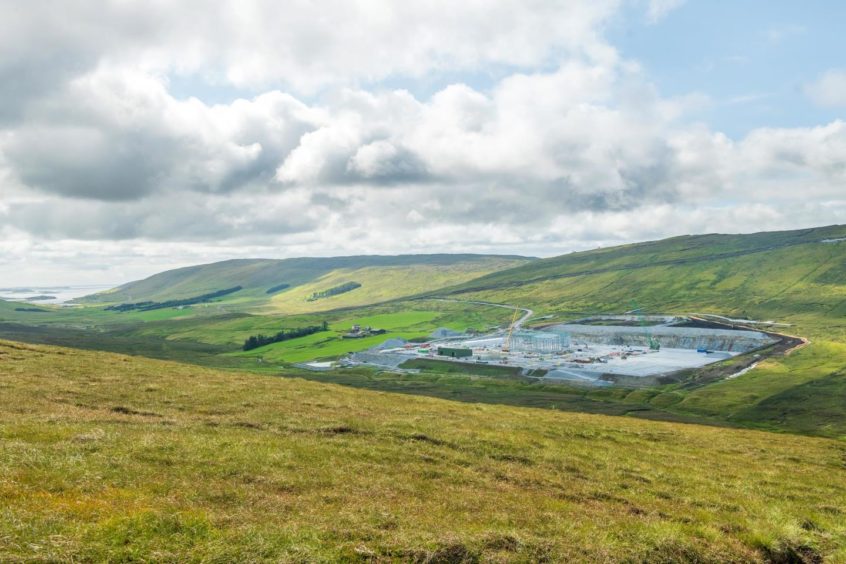 North Sea oil and gas fields could one day receive green power from a huge substation, currently under construction in Shetland.
The Kergord HVDC converter station is being built by Scottish and Southern Electricity Networks (SSEN) on the island, in tandem with SSE Renewables' giant Viking onshore wind farm.
Once completed, scheduled for 2024, the facility will allow green energy produced by Viking to be fed into the national grid.
Power will be transported from Shetland to Caithness in the Highlands via a 160 mile, 600 megawatt (MW) subsea HVDC cable.
In addition to helping to decarbonise the UK's energy usage, the substation could also open the door for oil and gas operators in the region to cut their operational emissions.
John Scott, Kergord project director for SSEN Transmission, revealed that the substation is in discussions with the Orion – Opportunity Renewables Integration Offshore Networks – project in Shetland.
The scheme aims to supply renewable electricity to offshore platforms in order to cut carbon emissions resulting from oil and gas production.
Orion, which is backed by Shetland Islands Council, OGTC and Highland and Islands Enterprise, also seeks to produce green hydrogen at scale.
Speaking at the Kergord construction site, Mr Scott said: "Project Orion is working with the oil and gas industry, looking at potential proposals to provide shore power connections to oilfields. We are in discussions with Orion and we are awaiting their proposals.
"We have a legal obligation to provide a connection to anyone who approaches us and, should they require a shore power connection, we've got the flexibility in this hub to provide that from Kergord."
He added: "Supplying electricity to offshore platforms has certainly got potential to be a big market in the coming years and we've got the ability built into our assets to allow for future connections."
Much of the UK oil and gas industry's ambition for future growth hinges on developments West of Shetland, such as Equinor's Rosebank project, BP's Clair South and Siccar Point's controversial Cambo development.
But, in addition to the harsh environments in the region, companies also need to make sure they tick environmental boxes.
One such method for reducing operational emissions is platform electrification, whereby offshore assets are powered using renewable electricity.
And this is where wind developments, such as Viking, could come to the rescue.
Mr Scott said: "Kergord has been designed and built with the flexibility to accept additional generation, as well as the technological capability to feed out to an oilfield or any other consumer.
"For example, if Sullom Voe wanted additional power, this facility creates the possibility that we can provide that."
Last year, SSEN awarded a contract to Siemens BAM to construct the AC substation at Kergord, while NKT, of Denmark, was chosen to manufacture and install the subsea cable.
More recently, Tulloch Developments was appointed to deliver the onshore civil engineering works.
Energy regulator Ofgem approved the £660 million Shetland HVDC project in 2020, solving a crucial piece of the puzzle for the Viking wind farm, which is also under construction on the island.
Recommended for you

Shetland energy link reaches milestone