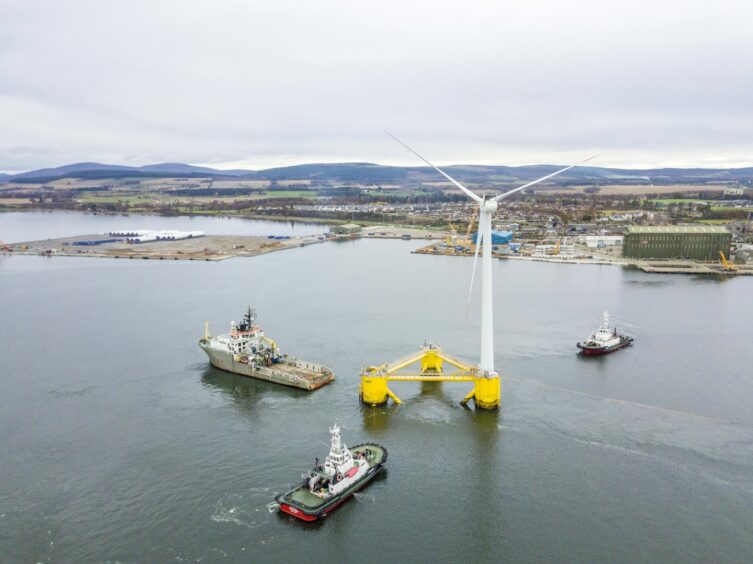 Sector representatives have welcomed a pledge by the First Minister to invest £500 million in the "lynchpin" Scottish wind supply chain.
In a speech closing the SNP conference in Aberdeen on Tuesday First Minister Humza Yousaf announced the £500m commitment as part of a drive to create to create "sustainable" green jobs for the future, particularly in the north east.
Set to be deployed across the country, Mr Yousaf said the funding would act as "a catalyst for additional private investment in our ports and harbours, supporting inward investment and encouraging domestic companies to seek new opportunities."
In helping to slash emissions and create sustainable jobs, he said this would send "a clear message" to global investors that "Scotland means business."
It comes as ScotWind developers have submitted plans to invest a potential £25 billion in local supply chains over the lifetime of their projects.
Targeted investment for just transition
Scottish Renewables' head of energy transition and supply chain Emma Harrick said the announcement was "welcome news" following a campaign from the organisation.
"The £500 million commitment will stimulate growth for supply chain organisations, foster export opportunities and promote the development of green skills in communities," she said.
"Scottish ports are the lynchpin for our offshore renewable ambitions and investing in this critical infrastructure will ensure the nation benefits from the fresh economic investment and regeneration opportunities a home-grown clean energy supply chain brings.
"A recent report from the Offshore Wind Industry Council highlighted that the UK offshore wind supply chain has the potential to deliver more than £90 billion of value to the UK economy by 2040.
"Targeted interventions, like today's announcement, will ensure Scotland maximises the economic benefits of our renewable energy projects, grow the renewable energy supply chain and ensure a just transition for suppliers across all green energy technologies."
Backing freeport strategy
One such port is Cromarty Firth, whose chief executive Bob Buskie also hailed the news, adding that there was "nowhere in the country better placed" to take advantage of burgeoning wind generation.
"These fresh plans announced by the First Minister will provide a huge boost to the Cromarty Firth, the Highlands and Scotland," he said.
"The Port and our supply chain can support new offshore and floating offshore windfarm projects earmarked in areas both close to us geographically and further afield for decades.  This move by the Scottish Government fully supports our region's Green Freeport strategy and ambition to become a global renewable energy hub."
Boosted by its award of green freeport status, the site hopes to secure contracts supporting the rollout of gigawatts of floating and fixed wind capacity in the coming decade.
"Being a Trust Port, where all of our profits are reinvested into the Port's development, gives us huge scope to develop our facilities further and we are investigating new plans to substantially increase our capacity and provide a pipeline of quality supply chain jobs for many years to come."
Last month Mr Buskie said the site could spend up to £330m on upgrading its facilities to take advantage of a variety of opportunities, on top of the more than £50m committed to facilities at Invergordon so far.
'The devil will be in the detail'
Aberdeen and Grampian Chamber of Commerce (AGCC) boss, Russell Borthwick welcomed the announcement, however, he said "the devil will be in the detail" in ensuring a lasting return for businesses in the north-east of Scotland.
The AGCC chief executive said: "We very much welcome the announcement of additional funding to develop Scotland's offshore wind supply chain, to unlock private investment and to create high-quality sustainable jobs.
"We represent several hundred supply chain companies currently supporting the North Sea energy sector — many of them already readying for the energy transition and many more ready and willing to take that leap.
"The more comfort that government can provide — whether through upfront investment, guaranteeing or underwriting order books or creating a stable investment environment — the easier it is to rise to that challenge of achieving net zero."
Mr Borthwick said that his organisation will be working closely with Humza Yousaf's government to ensure that his member organisations feel the benefits of this cash injection.
He said: "As ever, the devil will be in the detail, but we look forward to working closely with the Scottish Government to ensure this £500 million of new investment will deliver a lasting return for Aberdeen and the North East."
Cash should 'protect the livelihoods' of workers
RMT general secretary Mick Lynch shared his views on how the money should be used.
He said: "This money needs to be used to train seafarers, protect the livelihoods and ensure permanent employment for offshore oil and gas workers.
"It is important that there is continued investment in an effective offshore skills passport that will prevent the duplication of training between sectors and assist with transferable skills and retention within the offshore energy sector."
Mr Lynch explained that there needs to be "robust scrutiny" within the offshore wind supply chain to ensure that good employment practices are put in place.
Mr Lynch continued: "RMT has witnessed shocking employment practices over the last few years so there needs to be robust scrutiny within the supply chain to end these injustices and to boost local employment as a direct result of increased public investment and from the £700m ScotWind payments from developers.
"There is also a domestic shortage in these types of workers at present, and the economic benefits to Scotland from the growth in offshore wind and other green offshore energy sources will be limited if we do not address these shortages.
"We need up to 95,000 workers by the end of the decade, to fill the gaps in the sector, according to recent assessments."
SIM-only plans
The pledge follows the creation of a so-called Strategic Investment Model (SIM) earlier this year, aimed at ensuring the domestic supply chain benefits from targeted investment – of which ports are particularly important.
Overseen by the Scottish Offshore Wind Energy Council (SOWEC), the SIM aims to provide certainty and clarity on "a shared view of need" for the supply chain – marshalling industry and the public sector to make sure investment is pooled effectively and risks shared.
Exact targets for the proposed £500m are yet to be determined, though the Scottish Government says it expects to be deliver capital through the Scottish National Investment Bank (SNIB) and enterprise agencies over the next five years.
However, it noted decisions on spending for 2024-25 and future years remain subject to the passing of the Scottish Budget – a draft plan for which is due to be submitted to Parliament on 19 December.
Mr Yousaf also pledged during the speech to issue Scottish Government bonds for the first time, which he said would be used to fund major infrastructure projects.