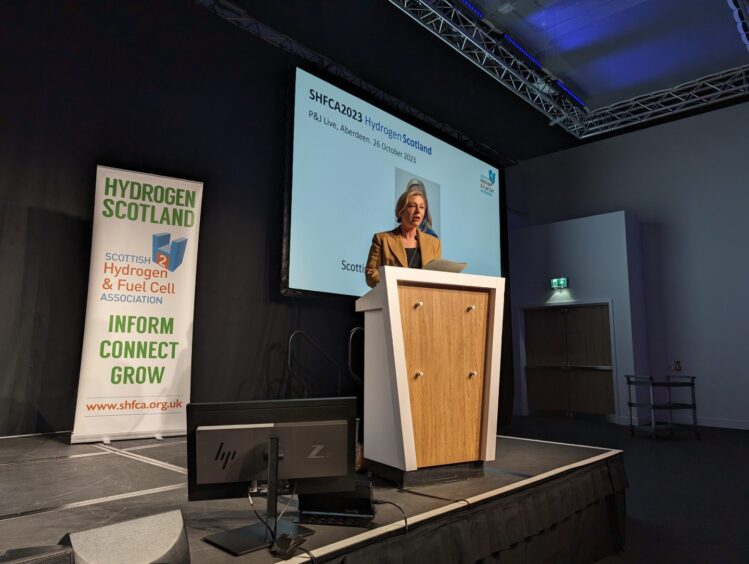 Scotland's energy minister told an Aberdeen conference that the country has the "potential to be a globally leading hydrogen nation."
Gillian Martin's speech came hours after the news broke that Aberdeen's Net Zero Technology Centre (NZTC) had been awarded £200,000 by the Scottish Government to look into the feasibility of exporting hydrogen from Scotland to Germany.
The energy minister told delegates at Scottish Hydrogen and Fuel Cell Association's Hydrogen Scotland conference at Aberdeen's P&J Live that the Scottish government is "fully committed to helping the hydrogen sector develop and grow."
She explained: "Both onshore and offshore wind are part of the critical path towards meeting our ambitions of five gigawatts of clean hydrogen production by 2030."
Ms Martin, the MSP for Aberdeenshire East, said that the establishment of regional hubs was "equally important" in meeting hydrogen targets.
The north-east MSP said: "As an Aberdeenshire MSP, I'm proud that the north-east is once again leading the way in that respect."
Despite these "ambitious goals", a recent report published by international law firm Pillsbury lambasted the UK for being "embarrassingly unambitious" in the hydrogen space.
London-based Pillsbury partner Gavin Watson said the UK still lacked a coherent regulatory framework two years after the government unveiled its hydrogen strategy.
In March, Aberdeen City Council and BP's joint venture to bring a hydrogen hub to the Granite City has submitted planning applications to bring the project one step closer to fruition.
If successful, the plans will involve building a green hydrogen production and vehicle refuelling facility powered by a purpose-built solar farm.
BP was selected in 2021 for a £215m procurement contract to help deliver three phases of the hydrogen project with Aberdeen City Council.
H100 to 'prove that there is a use for domestic hydrogen'
The energy minister also touched on the potential for hydrogen to be used domestically.
She spoke about visiting the H100 trail project in Fife which is serving as a trail to power 300 homes using green hydrogen.
Construction kicked off on the H100 project in March this year and Ms Martin says it will "hopefully" prove there is a use for domestic hydrogen.
The north-east MSP said: "It's safe and the people who are part of that trial will be evangelising for that and maybe it will be the start of other projects across Scotland, I certainly hope so."
However, a recent report on the UK's net zero needs by the National Infrastructure Commission (NIC) said that there is "no public policy case" for hydrogen to be used to heat individual homes or other buildings.
The NIC found that "a system with hydrogen heating would be around 1.2 times more expensive than a system without."
'We will need hydrogen. That's plain and simple.'
She told conference attendees: "In our future net zero energy system, one that all of us here are striving to create, we will need hydrogen. That's plain and simple.
"Scotland's wind, hydro, waves and solar power will provide much more energy than we actually require or can use, but it will not always be available when it's needed, so hydrogen will be able to store excess renewable electricity for when we need it and help improve the efficiency of the whole system."
The energy minister said that hydrogen will be a "source of energy security in Scotland and the UK and beyond."
A recent report by the Royal Society said that unless the UK government kick-starts the construction of large-scale hydrogen storage facilities immediately it will not be able to meet the legally binding net zero targets by 2050.
The report says that although an electricity system with significant wind and solar contributions offers the lowest cost of electricity, it is critical to have large-scale energy stores that can be accessed quickly, ensuring the UK's energy security and sovereignty.
Recommended for you

Kellas Midstream secures first hydrogen customer for H2NorthEast