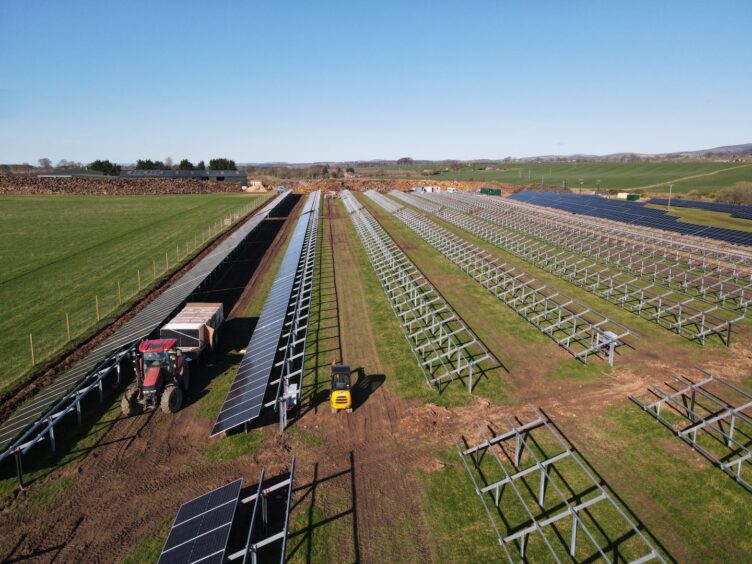 A new 20-acre solar park has opened in Angus in the Northeast of Scotland, boosting green energy production in the local area.
Energy generated on the 6.7MW Ecosse Solar Parks site near Forfar will be sold back to the National Grid.
Founded in 2019, Ecosse Solar Parks is the newest venture from family-run firm, Albamuir Ltd.
The 11,500 module solar farm adds to the group's portfolio of local businesses which includes Angus Biofuels and a nearby storage facility.
Their latest solar venture is headed up by Angus Watson, who is building on the knowledge he gained while studying at Robert Gordon University and his experience working within the family business, which produces 6 GWh of green electricity per year.
Having managed the project from start to finish, Mr Watson is now helping other local businesses by offering advice and practical support to those interested in creating their own solar park.
"I've worked within the family business for a number of years, and sustainability has always been at the forefront of everything we do," he said.
"While we were well established when it came to generating our own solar energy, building infrastructure of this scale was a completely new challenge.
"We're now in a position where we're able to use the experience we've gained to help other farmers in the local area move into green energy production."
Solar park boosts green energy in Forfar
The latest solar addition was secured through a £1.9m funding package facilitated by Lombard Asset Finance, part of the NatWest Group.
Mr Watson said the support from Lombard had been "invaluable".
"The solar industry is moving at such pace that the biggest challenge we faced was the risk the equipment we purchased would soon be outdated," he said.
"This funding meant we could invest in the latest, most up-to-date infrastructure – allowing us to futureproof the park."
Lombard senior relationship manager Dale Robertson said the Ecosse Solar Parks project was a great example of adopting sustainable practices while continuing to innovate and grow.
"We've worked alongside Albamuir for over 15 years now and are delighted to support them in their latest venture, which will create a significant boost to green energy production in Forfar and the surrounding areas," Mr Robertson said.
"We look forward to supporting the family run firm as they keep leading the way in responsible business practices."
While not known for its sunny weather, solar technologies currently account for 410MW of electricity generation capacity in Scotland, enough to power around 90,000 homes according to Scottish Renewables.
A further 1.1GW of solar projects are in the planning pipeline across Scotland, with First Minister Humza Yousaf touting the "significant potential" of floating solar projects.