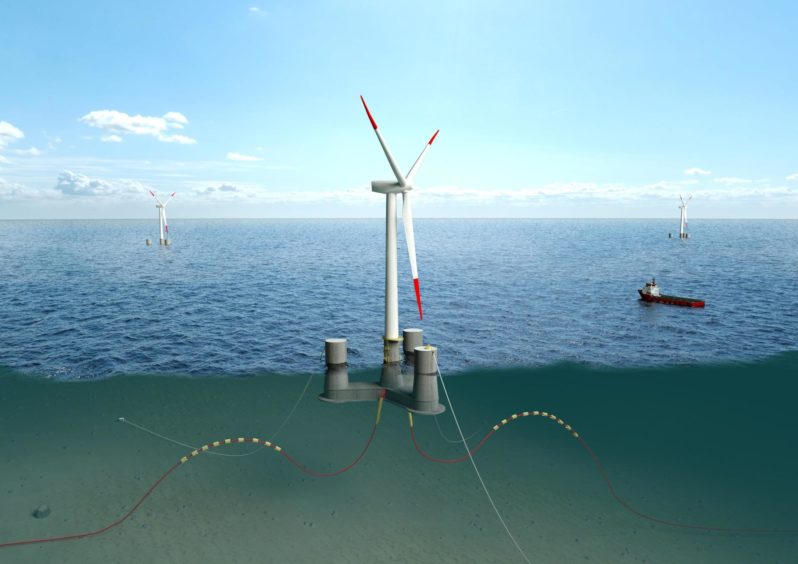 Two of Europe's leading renewable energy developers have announced plans to team up in order to "unlock the potential" of floating offshore wind in Scotland.
Italian operator and developer Falck Renewables, through its UK subsidiary Falck Renewables Wind Ltd (FRWL), and Madrid-headquartered BlueFloat Energy intend to jointly apply for one or more seabed leases in the ongoing ScotWind process.
Scotwind, which got underway in June last year and is the first leasing round in Scottish waters in a decade, is due to close to at the end of March.
It's understood Crown Estate Scotland will publish its post-adoption addendum confirming the final arrangements for submitting applications on January 15.
Unlike bottom-fixed, floating offshore wind turbines are attached to the sea floor using mooring lines, meaning they can be deployed in deeper waters.
The technology is still in its relative infancy, with only a handful or projects deployed across the world, but industry experts have previously expressed excitement that ScotWind could be a crucial turning point in accelerating the uptake of floating.
And the newly formed partnership said it has the potential to benefit both the domestic supply chain and wider Scottish communities.
Carlos Martin, BlueFloat Energy's chief executive, said: "We are thrilled to collaborate with such a strong local player as Falck Renewables. We have very complementary strengths and competences, which puts us in a unique position to successfully deliver floating offshore wind energy projects in Scotland.
"By leveraging our experience of developing and executing the WindFloat Atlantic project in Portugal, the BlueFloat Energy team is able to bring insights into the key challenges and complexities of floating wind project development, financing and execution.
"Having Falck Renewables onboard with their unique set of capabilities, skills, and keen focus on community engagement, gives us great confidence that we can tailor our expertise to local requirements in Scotland."
Since starting up its UK operations in 2003, FRWL has amassed a total of ten wind farms in Scotland, including Kilbraur in Strath Brora in Sutherland.
It also claims to have pioneered the co-operative ownership approach to wind farm development at its Boyndie development near Banff.
Richard Dibley, FRWL's managing director, said: "We have over 15 years of experience of working closely with local communities and the supply chain to deliver wind farms which share their economic benefit as widely as possible with the communities around them.
"This new project will marry our community-focused approach to developing onshore wind projects with the BlueFloat team's impressive track record of delivering floating offshore wind projects.
"We are very much looking forward to developing new offshore wind projects that really benefit Scottish communities and manufacturers, providing jobs and economic prosperity."
Recommended for you

Developers name giant offshore windfarm after Stonehaven's Bowdun Head