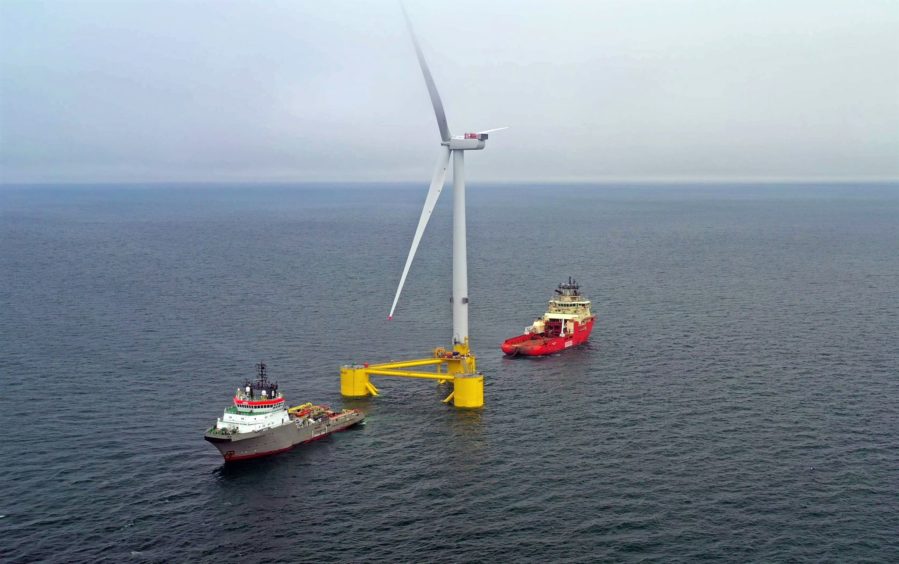 A renewables leader has called on the UK to 'raise the ambition' for floating wind during the opening of an industry event in Aberdeen.
Speaking at the Floating Offshore Wind conference on Wednesday, Dan McGrail, chief executive of trade body RenewableUK, says the industry needs to set its sights beyond 2030.
By the end of the decade, Westminster is hoping to have 1 gigawatt (GW) of floating capacity installed in UK waters.
To support the development of the technology, government has set aside £24 million as part of its Contracts for Difference (CfD) subsidy scheme.
Mr McGrail said: "We need to seize the moment and the political momentum that COP26 creates to raise the ambition.
"The UK needs floating offshore wind to get to net zero; there is not the luxury of choice if we need to build over 100 GW of offshore wind by 2050.
He added: "We need a bigger ambition that extends beyond 2030; 1 GW does not build an industry.
"A long term, 2040 target of 16 GW to 20 GW, or more, is needed to make the UK more attractive than the rather substantial global competition that is emerging."
Hosted at the P&J Live on the outskirts of the Granite City, the Floating Offshore Wind Conference is one of the first industry events to be held in person since the start of the pandemic.
The opening session of the ScottishRenewables and RenewableUK event on Wednesday featured speakers from several leading energy companies, including Ocean Winds and Equinor.
Melissa Read, who leads Shell's UK offshore wind team, echoed Mr McGrail comments about targets, pointing out a "slight discrepancy" between ambition and reality in the UK.
She said: "We have a 1 GW by 2030 target, but ScotWind is bringing an anticipated 7 GW of floating offshore wind. Obviously, not all of that will be operational by the end of the decade, but it will be well on the way.
"It's really important to recognise that we do need scale and we do need that progressive development of the supply chain."
According to research recently released by RenewableUK, 54 GW of floating offshore wind projects are in the pipeline worldwide.
That includes those from an early stage of development, all the way through to those which are fully operational.
Over half of this is in Europe (30.9 GW), with the UK leading the world at 8.8 GW.
Floating wind allows developers to put turbines in deeper, windier waters that are out of reach of fixed bottom.
While such developments will be a fundamental part of the ongoing ScotWind leasing round, two projects are already up and running off the north-east coast.
Equinor's Hywind Scotland started production in 2017 white the Kincardine Floating Offshore Wind farm recently went in near Aberdeen.
Issues remain about the cost of floating wind though, especially when compared to fixed-bottom developments.
In order to achieve "cost parity", Dan Finch, managing director of Ocean Winds, highlighted the importance of "scale of deployment".
He said: "If we stop, start for the next 10 years, it's going to take us significantly longer. We need to look back and see what actually got us down to below £100 per megawatt hour. Everybody looks back at the increase in turbine size – and it is obviously a major factor – but the overall improvement in the supply chain is a huge reason.
"Things like de-risking projects; it means developers can push the boundaries of what they're prepared to accept when making financial decisions.
"Another massive factor is financial markets becoming more comfortable with offshore wind. They're going to go through the same thing again with floating."
Recommended for you