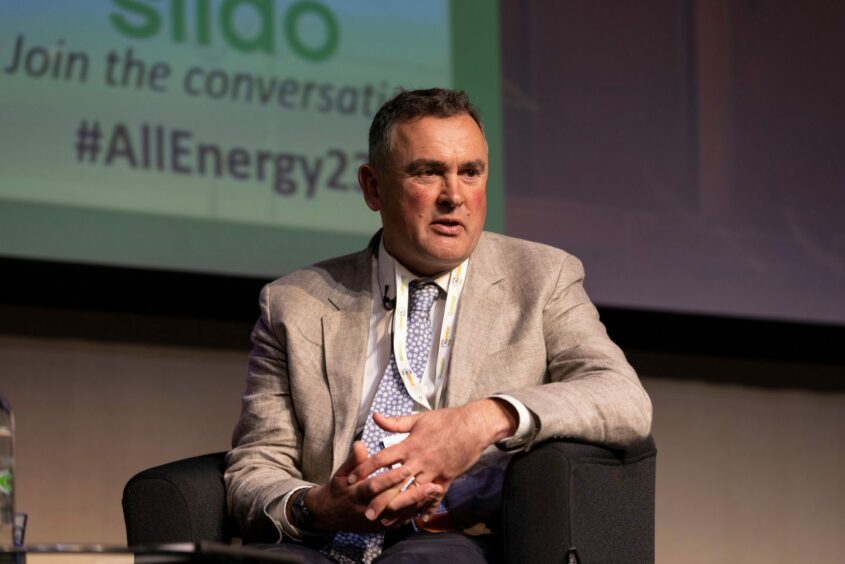 The government's Offshore Wind Champion said it was a "national disgrace" that maintenance work on the UK's flagship floating wind project off Aberdeen had to be conducted overseas.
In a fireside chat during the All-Energy conference in Glasgow on Wednesday,  Tim Pick said it was "embarrassing" that work to install and maintain the Kincardine floating wind farm off Aberdeen was carried out overseas.
Completed in 2021, the 50-MW scheme consists of five floating V164-9.5MW Vestas turbines anchored nine miles off the Granite City.
Yet developers have recently battled a series of technical issues at the site, and were last year forced to remove one a turbine and tow it to port in Rotterdam for a patch-up.
"I love the fact that we have the world's leading floating offshore wind farm, it's brilliant and I bang on about it as much as anyone else," Mr Pick said.
"But the fact that we couldn't build it from here and we can't even fix it from here when it's broken is, to my mind, a national disgrace.
"We call ourselves a maritime nation and yet we can't do this stuff."
Mr Pick recently prepared a report on the health of the wind sector, with ports flagged as one area of concern in ensuring a sustainable future for the UK and its wind supply chain.
He jokingly told Wednesday's conference that he hoped some of the findings would help "shame" ministers into taking the issue seriously.
"It's embarrassing. We're an island country with loads of ports but we don't have the right ones. I think we need a special programme to really accelerate this."
'Decoupling' port investment
Released in April, Mr Pick's report found that grid access and a lengthy planning process are the major limiting factors in plans to expand offshore wind capacity.
Years of under-investment in network infrastructure, coupled with a massive ramp up in renewables means grid constraints are now becoming "a significant brake on wider economic activity, not just on offshore wind farms," he said.
Reflecting on his findings, he told All-Energy delegates that ports would be the "absolute key enabler" for much of the UK's wind activity in future.
11 ports across Scotland and the UK are in need of upgrading at a cost of around £4bn he said – investment which will be essential to the future of the wind sector.
"If you want these ports – which I think you need as it's not like you can outsource this forever, especially with Europe going crazy for offshore wind as well – you need to decouple port investment from the wind projects," he added.
He suggested there may be a role for government to provide "some kind of capacity-type instrument" to help guarantee funding, which would allow ports to invest without worries around policy, offshore leasing rounds or the timing of major developments.
This would in help provide a minimum floor of revenue, he suggested, to help "decouple port investment risk from the market risk of offshore wind".
Nevertheless, he welcomed the recent £300m investment in Ardersier which he said may well show industry is already bucking the trend.
ScotWind and ports capacity
ScotWind, the massive seabed auction which made its awards last year, has potential to see 28 gigawatts of offshore wind developments off Scotland's shores.
That's nearly three times the existing amount offshore wind across the entire UK.
To help meet that, rapid investment in Scotland's ports – as well as a coordinated approach on delivery – is a must, as outlined by former First Minister Nicola Sturgeon last year.
But the UK cannot provide that scale of development on its own – and it comes as offshore wind ramps up globally, particularly in areas like the EU and US, driving a supplier crunch.
Commercial-scale floating dominates ScotWind awards, and Tim Pick's report highlights that, for Scotland's projects alone, three to five integration ports are needed by 2030.
Following ScotWind, Scotland now accounts for 72% (30 GW) of seabed leases granted, but not yet developed, in the UK.
Recommended for you

UK Government bank will consider buying stakes in floating wind ports