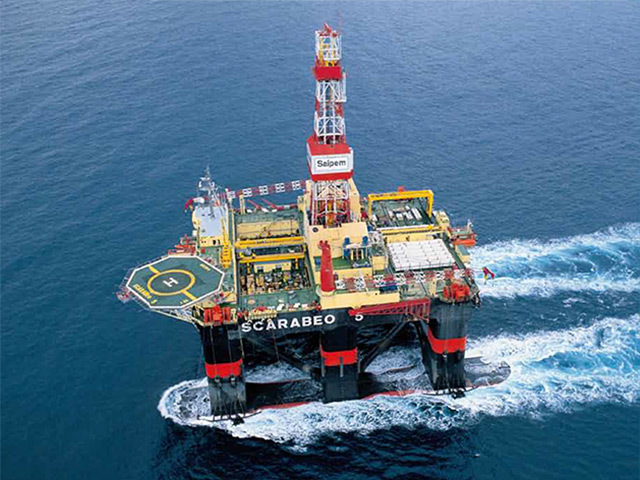 Saipem has announced the award of two major contracts for offshore work in Congo and the Gulf of Mexico worth a combined $700 million.
Announced on Friday, the Milan-listed contractor (MIL:SPM) said it had secured an award from Eni Congo for the conversion of Scarabeo 5 semisubmersible drilling unit into a separation and boosting plant.
Conversion work will see the fourth-gen drilling rig become a floating production unit (FPU) – a semisubmersible production platform capable of receiving production fluids from wellheads riser platforms, separating the gas from liquids and boosting the gas in order to feed the nearby floating LNG (FLNG) unit.
The contract, which follows an agreement signed earlier this year for preliminary engineering and procurement activities, includes engineering, procurement, construction, transportation and commissioning of the FPU.
It will then be installed off the coast of the Republic of Congo, northwest of the Djeno Terminal, in water depth of about 35 metres.
The commissioning offshore works and the start-up of the FPU are scheduled by the fourth quarter of 2025.
This unit will form part of Eni's Congo LNG Project, the country's first natural gas liquefaction project.
The project aims to reach 3 million tonnes per year – around 4.5 billion cubic metres – of liquefaction capacity, via two floating LNG (FLNG) facilities. It will capture gas from the Marine XII licence, with some going to domestic power use, while the rest is exported.
The first FLNG unit is under conversion and is set to begin producing this year.
Argos award
In addition, BP (LON:BP) has awarded the contactor work for various offshore activities in the Gulf of Mexico.
The scope relates to the Argos FPU, the supermajor's first new operated production facility in the Gulf since 2008. Brought online in April and located in the Green Canyon Block 780 in roughly 1,400m water depth, it has a gross production capacity of up to 140,000 barrels of oil per day.
The Saipem Constellation vessel will carry out "marine activities" required for the project, to be managed by Saipem's execution centre in Houston.
Saipem said the award represented "a significant milestone" as it will be the first project involving the deployment of the Saipem Constellation in the Gulf of Mexico following a series of awards for projects in Australia and Guyana.
The $700m backlog influx bookends a stellar week for the Italian group, which on Thursday announced a $1bn contract for work off Libya.
Recommended for you

CIMC Raffles takes on Saipem conversion for Congo work