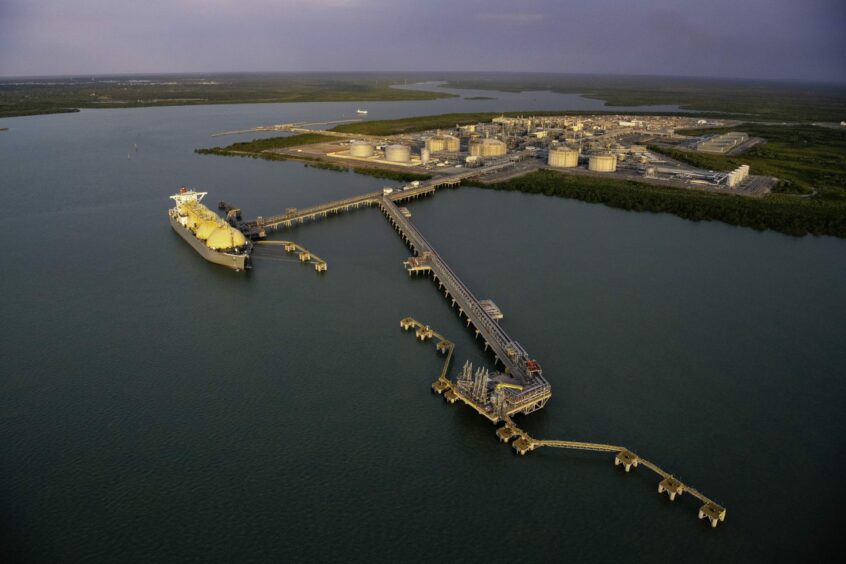 Carbon capture and storage (CCS) will form a key plank in INPEX's (TYO:1605) efforts to progressively decarbonise its Ichthys liquefied natural gas (LNG) operations in Australia's Northern Territory. It will also help Japan's biggest energy company establish the foundations for the next generation of clean fuels.
INPEX is supporting plans to introduce a giant CCS hub in Darwin, that the company would share with other industries, as well as help facilitate imports of liquid carbon dioxide (CO2 ) from overseas, Phil Grainger, Vice President Growth at INPEX, told Energy Voice.
"The idea is being promoted by the Northern Territory Government and supported by the federal government, both recognising that scale matters – the ability to share infrastructure reduces costs for everyone," he said.
The concept of a hub is not a massive industrial complex – it really is just a pipeline network connecting nodes, which are sources of CO2 with storage nodes.
INPEX is targeting to inject 2.5 million tonnes per year of CO2 by 2030 – largely from the Ichthys LNG export facility it operates.
Sources of CO2 – LNG Production, Industrial Emitters, and Japanese Exports
Future LNG processing trains at the INPEX-operated Ichthys LNG or Santos-operated Darwin LNG plants would be obvious future sources of CO2 , noted Grainger.
Beyond LNG, the Northern Territory Government has ambitions for a significant industrial development on Middle Arm and this could potentially introduce other emitters. Production of blue hydrogen or blue ammonia would also be an obvious build out, he added.
The other possible source of CO2 for the hub is imported liquid CO2 and INPEX is talking to potential exporters in the region, including Japan, that are seeking storage in Australia.
"The original genesis of the idea was to decarbonise Ichthys LNG, but we have now gone way beyond that, particularly as Japan's Ministry of Economy, Trade and Industry (METI) has identified CCS as a critical technology for the decarbonisation of the country," said Grainger.
Japan is actively chasing small-scale CCS domestically and appraising CCS overseas, where the geology is more conducive to large-scale applications. "METI is keen on it. INPEX, encouraged by METI, has also recognised it is a game changing technology," he added.
On the receiving side of the hub, there are two options under consideration. Firstly, there is Bayu Undan CCS, which is being developed by Santos (ASX:STO), initially to store CO2 from its Barossa gas development. And then there is the INPEX-led Bonaparte CCS Assessment Joint Venture – this includes Woodside Energy (ASX:WDS) and TotalEnergies (LON:TTE) – that is appraising an alternative large-scale greenhouse gas (GHG) storage site, in the Petrel sub-basin.
"We believe this offshore acreage has the potential to support one of the largest CCS projects in the world, not only for Ichthys LNG – but also for the next generation of clean fuels," said Grainger.
For example, blue hydrogen manufacture, requires roughly 10 times the amount of CO2 storage used for decarbonising gas processing, as compared with equivalent energy production, he added.
Indeed, moving into hydrogen is a natural evolution for an energy development like Ichthys LNG and would directly support Australia's desire to develop a clean hydrogen value chain.
Bonaparte CCS Potential
In August 2022, INPEX – and its partners Woodside and TotalEnergies – won GHG permit G-7-AP spanning 27,500 square kilometres offshore Northern Australia in the Bonaparte basin.
"The geology we expect here is seen to be very similar to the setting for the Sleipner project in the Norwegian North Sea, the first and arguably the most successful aquifer-based storage project in the world, having stored roughly a million tonnes of CO2 per annum for over 20 years," said Grainger.
INPEX's Bonaparte CCS appraisal works will involve drilling two appraisal wells close to the proposed CO2 injection site. Also, three-dimensional (3D) seismic survey work will take place to further assess the storage complex to confirm suitability for injection and storage of CO2.
Exploration Drilling and Environmental Approvals
Initially, INPEX was targeting the 3D acquisition in 2Q 2023 followed by exploration drilling. However, it is becoming increasingly challenging to process environmental approvals in Australia and the schedule is slipping. The seismic sweep is now expected to be done in the 2H 2023, followed by drilling at a later stage.
INPEX is ready to start work immediately once it has the necessary environmental approvals. But its activity timelines have changed to enable expanded stakeholder consultation on both planned and unplanned events – to comply with the December 2022 decision by Australia's Federal Court that halted Santos' development drilling at its Barossa gas project off the Northern Territory.
Santos was accused of not adequately consulting traditional landowners about its drilling programme and was ordered to stop drilling while it revisited the environmental consultation process. The court's decision has had a dramatic impact on the sector as the industry is now in a quandary about how to move forward with environmental approvals. At the same time drilling rigs are starting to leave Australia as they do not foresee work anytime soon following the ruling.
CCS and the Australian Government
Under the new Labor Government, which took office in May 2022, there is now a different approach to encouraging CCS, but implementing CCS has become more of an imperative, rather than less, said Grainger.
The reforms proposed by Labor propose to progressively reduce industrial emissions over time, which means if oil and gas operators do not implement emissions reductions technologies, such as CCS, they will need to buy a lot of permits to offset emissions.
The proposed reforms do still include some subsidies for emissions reduction, but rely more heavily on encouraging investments in abatement to avoid the increasing cost of offsetting emissions.
"Irrespective of government policies, as a company we are committed to reducing our carbon footprint. CCS is the low hanging fruit to achieving this and our highest priority. We just need to get on with it."
Committed to a Clean Energy Future
INPEX believes that natural gas has an essential role in the energy transition as a low-carbon fuel, especially in the form of LNG, which allows for the increasing divergence between sources of supply and the demand.
However, Grainger said the company, whose core business is supplying LNG to key markets in Asia, recognises the need to cut the footprint of its production operations at the same time as preparing for the transition to new fuels.
The company has hydrogen and ammonia demonstration projects underway in Japan, as well as proposed in Abu Dhabi, Indonesia, and Australia. It is also pursuing wind and geothermal power developments.
Still, decarbonising Ichthys LNG, which is the company's biggest producing asset – and has a life span expected to stretch at least another 35 years, is of utmost importance. Australia is the immediate focus of the company's decarbonisation effort, and it aims to ensure it continues producing in a sustainable way. INPEX said it is highly motivated to succeed as its LNG project will essentially fund future growth for the corporation.
Aside from developing CCS to store emissions from Ichthys LNG, INPEX is also seeking to introduce renewable power to back out gas-fired generation at the plant.
Ichthys LNG is a joint venture between INPEX group companies (the operator with a 66.245% interest), major partner TotalEnergies (a 26% interest) and six additional joint venture participants.
Other joint venture participants include the Australian subsidiaries of CPC Corporation, Taiwan (2.625%), Tokyo Gas (1.575%), Osaka Gas (1.2%), Kansai Electric Power (1.2%), JERA (0.735%) and Toho Gas (0.42%).
Recommended for you

Woodside launches CCS study with Japanese industry