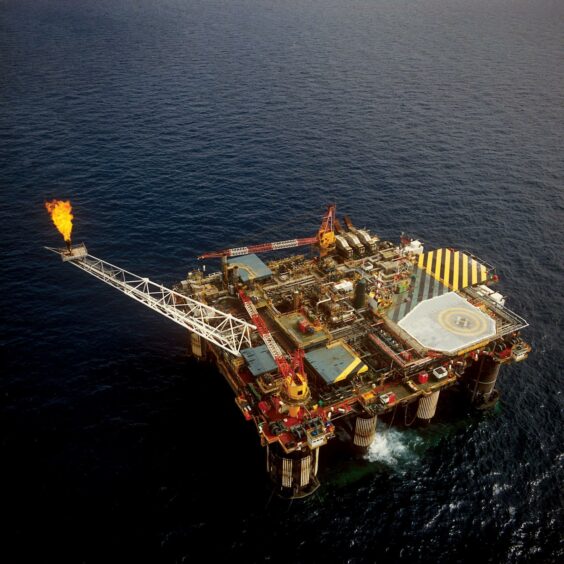 Climate campaigners have questioned the decision to green light a North Sea oil and gas field that they claim will provide "little to no benefit" to the UK.
Non-profit group Uplift has described Ithaca Energy's Abigail as a "tiny" project that will only produce enough gas to meet UK demand for around a day and a half.
Located around 145 miles off Peterhead, Abigail is targeting up to 8.3 million barrels of oil equivalent, in the high case.
Industry regulator the Oil and Gas Authority (OGA) approved the development, a subsea tieback to the FPF-1 floating production facility, in January.
An OGA spokesman said: "Our analysis shows that Abigail will be economic and won't change the UK's position as a net importer of oil and gas.
"The OGA will continuously hold the operator to account on emissions reductions as part of our stewardship."
Abigail
In its environmental statement, Ithaca said Abigail would be developed in two phases.
The first would involve converting an existing appraisal well in the western portion of the field into a production well.
Ithaca has estimated Abigail holds recoverable reserves of 3.9 – 8.3 million barrels.
If the reserves are found to be towards the top estimates the company will push on with the second phase – the drilling of another new production well around 18 months after first oil.
Ithaca, which is targeting first oil in the third quarter of this year for Abigail, has been contacted for comment.
Climate implications
Uplift however claims that Abigail is in conflict with efforts to mitigate climate change, citing a report released by the International Energy Agency (IEA) last year that said there could be no new oil and gas developments if global temperature rise is to be limited to within 1.5 degrees.
Campaigners also demanded once more that future North Sea licensing rounds should be stopped and funds diverted towards renewables.
Ms Khan said: "Why is the government sanctioning an oil and gas development that will see little to no benefit for UK energy customers or taxpayers, which only worsens the climate crisis, and where the only winners are the oil firm behind the project. If we carry on down this path, we'll be dependent on a very expensive, highly polluting energy source for decades longer than is necessary.
"A serious response from the government to both unaffordable energy bills and the climate crisis, would see all this investment steered into cheaper UK renewables. The government needs to stop rolling over for the oil and gas industry, stop dishing out licences, and get on with making sure people have access to affordable, renewable energy."
Climate checkpoints
Westminster is currently engaging with industry to draft up climate barriers that new oil and gas developments will have to overcome in order to gain approval.
Promised as part of the North Sea Transition Deal, signed off in 2021, the consultation is due to close at the end of February.
In the face of flak around the controversial Cambo field, the oil and gas industry has repeatedly had to defend its continued existence in recent months.
Bosses have underlined that developing new North Sea fields is fundamental to maintaining security of supply as the UK transitions to renewables.
Interestingly however exports of UKCS-produced gas between September and November amounted to 31,975 gigawatt hours (GWh).
That is around double the quantity (15,380GWh) sold in the corresponding period in 2020, according to figures from the Department for Business, Energy and Industrial Strategy (BEIS).
'No such thing' as climate compatible oil developments
Caroline Rance, climate and energy campaigner at Friends of the Earth Scotland, says the Abigail approval is the latest example of the "UK Government saying one thing and doing another".
She added: "The simple fact is that there is no such thing as a climate compatible oil and gas development. Climate science is crystal clear that burning fossil fuels is the key driver of the climate crisis and that there can be no new oil and gas fields anywhere in the world if we're to limit warming to the 1.5ºC limit.
"The UK Government should immediately stop granting permission for new oil and gas projects, and instead begin a managed phase out of existing fields while ensuring a just transition for affected workers and communities. Every new field harms the ability of workers to transition by continuing to channel public money and support into fossil fuels instead of into increasing renewables, creating new jobs and supporting workers to retrain."
A hit on the taxpayer
Uplift also claimed that Abigail could end up costing the taxpayer, citing findings from research body Rystad Energy.
When asked for a comment, a spokesman for Rystad said: "Abigail is a small subsea development with a current resource estimate of fewer than 10 million barrels of oil equivalent.
"On the positive side, Ithaca is able to utilize its existing infrastructure in the Greater Stella Area to develop the field and add value. Currently, Rystad Energy's estimates suggest that the present value of the government take for Abigail is likely negligible.
"Taking into account the latest developments, including oil and gas price projections, fiscal regimes, and overall company portfolio changes, Rystad Energy updates its data frequently. In the present valuation of Abigail, there are several potential upsides that are not captured, such as persisting high commodity prices and upside in the resource potential, both of which could bring additional tax income to the UK government.
"It is also important to note that taxes are calculated on a corporate level, rather than field level, so it may not be representative for the asset to estimate government tax by looking solely at Abigail as a standalone development without considering Ithaca's entire portfolio."
Recommended for you

Serenity partners 'assessing various options' to produce North Sea field