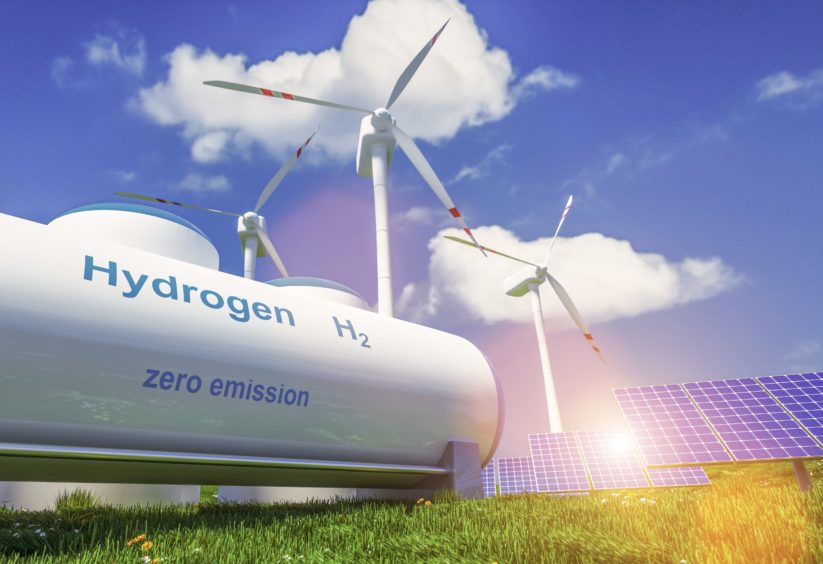 Bosses from all corners of the energy sector have shared their thoughts on the UK Government's flagship Hydrogen Policy.
The long-awaited programme was eventually published on Tuesday, with ministers hailing it as the "start of the UK's hydrogen revolution".
It sets out how Westminster plans to lay the foundations for a domestic low carbon hydrogen economy to "transform" the way the country's energy sector functions.
Government currently has a target of 5 gigawatts (GW) of low carbon hydrogen production capacity by 2030.
And if the sector flourishes as planned, it's hoped hydrogen could leverage £4 billion in investment, create over 9,000 jobs and open up new export opportunities, all by 2030.
Unsurprisingly for a programme of this magnitude, the Hydrogen Policy has drawn mixed reactions from the energy industry.
Many have toasted the arrival of the publication, praising it for setting a "clear roadmap" for the development of the fuel.
Meanwhile others feel it falls short on ambition, with some criticising its plans to pursue different forms of low carbon hydrogen.
'At the moment, we are massively lagging behind Europe'
One person urging the government to go further with its pledges is Tom Crotty, corporate affairs director for Ineos, one of the UK's largest producers of hydrogen.
The petrochemical giant is calling on the government to move "quickly and decisively" in its support of the hydrogen economy.
Mr Crotty said: "The development of the hydrogen economy is the UK's best chance of reaching its carbon reduction targets and INEOS stands ready to play its part.
"But the government must start to commit to investment in the development of the UK's hydrogen infrastructure to enable the zero CO2 energy source to be used in feedstocks, transport and homes. At the moment, we are massively lagging behind Europe and words are not enough."
'Critical issues should have been ironed out'
Criticism of the policy also came from within the government itself, with Philip Dunne, Conservative MP for Ludlow and Environmental Audit Committee chairman, underlining issues that are yet to be addressed.
As part of the strategy, Westminster committed to holding a number of discussions on specific areas of the hydrogen economy.
Most notably, it has launched a public consultation on a preferred hydrogen business model, designed to bring down the cost of the fuel.
Mr Dunne said: "I welcome the eagerly awaited Hydrogen Strategy, which finally gives industry some clarity on the Government's intention for hydrogen in our low carbon energy mix. When our committee undertook work on hydrogen last year, we heard that the UK is ahead in terms of technology and understanding, but lacked demand signals from Government through a Hydrogen Strategy required to compete in the global hydrogen economy.
"While I welcome this step forward, I have to say it is disappointing that only now – after being promised the strategy in November last year – are the necessary consultations being launched on how to overcome funding issues and how to define 'low carbon' hydrogen. These critical issues should have been ironed out in advance of this strategy.
"I urge the Government to act swiftly on the outcomes of these consultations. The UK has a strategic advantage from the prospect of generating green hydrogen from surplus offshore renewable energy generation, but the opportunity should not be missed."
'It's critical to question the government's 'twin track' approach'
UK Government has also been criticised for its commitment to develop a "twin track" approach to support both green and blue hydrogen.
Much debate currently rages in the sector around whether both types of fuel should be given a vote of confidence, or if it would be better for ministers to put all their eggs in one basket.
Low carbon hydrogen is divided into green, which is made using water and renewable energy through a process called electrolysis, and blue, which comes from natural gas, with carbon capture and storage (CCS) used to deal with emissions.
Chris Jackson, chief executive and founder of UK green hydrogen firm Protium, praised the Government for putting stock in hydrogen as a fuel of the future.
But he questioned certain aspects of Westminster's plans.
Mr Jackson said:  "While there are components within the UK's first hydrogen strategy that the industry should welcome today, it's critical to question the government's 'twin track' approach. By investing in blue hydrogen, the government will ensure that the UK is locked into a fuel import strategy, that by design cannot be a net zero solution and that will channel billions to the largest energy companies on earth instead of supporting and growing leading UK SMEs.
"Innovators from the UK have been at the forefront of hydrogen technologies and the UK industry has an enormously exciting opportunity to continue paving the way in this field. While this strategy is not necessarily worse than what we had been hoping to have confirmed by the government, it has not introduced a long list of upsides and offers little to support the SME space.
"As we delve deeper into this 'strategy' only one week after the IPCC's report was published, what has become clear is that irrespective of today's news, now is the time to accelerate action and we hope the government strengthens its support for green hydrogen in years to come."
'A clear roadmap'
Nevertheless, many industry leaders have praised the Hydrogen Policy, pointing to the crucial role it will play in turning ambition into reality.
Steve Scrimshaw, vice president at Siemens Energy UK&I, said: "We welcome the publication of the Hydrogen Strategy which sets a clear roadmap for the development of this important sector. In order to make this a reality, we now need to see a real pipeline of projects come to life.
"Not only will this action start us on the path to deep decarbonisation across many sectors, but it will also provide certainty to the supply chain that the UK is a good place to invest."
'An important signal of the UK's commitment'
Dalia Majumder-Russell, a partner in global law firm CMS' Energy & Climate Change team, described the strategy as a "key plank" in moving the conversation from the "theoretical aims" to a "more real policy framework".
She added: "Clearly significant work remains ahead – as the strategy recognises with key developments (such as the UK standard for low carbon hydrogen) due to be published later this and next year.
"Given that hydrogen straddles the regulatory regimes governed through gas and electricity legislation, to name but two, and needs its own framework within which to work. At present, the piece-mend approach resembling a mend and do attitude leaves gaps and risks which act as unnecessary hurdles in the development of this sector.
"Given the role that hydrogen is meant to play in the industrial sector, heating and transport, as well as in electricity grid system management, the need for a holistic review and approach to setting the frameworks within with hydrogen projects can develop and operate is critical to achieving the aims the UK government has set itself.
"Still, with this publication the UK joins the 30+ other countries which have hydrogen-specific strategies and this is an important signal of the UK's commitment to achieving its net-zero greenhouse gas ambitions."
'This strategy can help energy communities realise the full potential of this alternative fuel'
Mike Tholen, sustainability director at trade body Oil and Gas UK (OGUK), said: "We welcome the publication of the UK's much awaited Hydrogen Strategy, which will enable hydrogen to be a vital resource as one of the multitude of low-carbon solutions we now require.
"This provides a clear long-term signal that government is committed to building a world-leading UK hydrogen economy and sets out how it will work with industry to achieve this.
"Consistent with the Prime Minister's Ten Point Plan, our North Sea Transition Deal, and our Methane Action Plan alike, this strategy can help energy communities realise the full potential of this alternative fuel.
"The recognised need for the development of green and blue hydrogen is a sentiment we echo – all options should be made viable if we are to transform the UK's energy system to a sustainable one.
"We look forward to working with the UK Government to consult on this and help develop hydrogen, as well as the other necessary low-carbon solutions we know will be needed to reach net zero."
Within the policy, the UK Government listed several examples of hydrogen projects that are already "kickstarting Britain's world-leading low carbon hydrogen economy".
Among them was Acorn, which is based at the St Fergus gas plant in Aberdeenshire and is being developed by Harbour Energy, Shell and Storegga.
The initiative is exploring repurposing North Sea oil and gas infrastructure to assist in the capture and storage of carbon emissions, a fundamental part of the blue hydrogen process.
Given its location, Acorn is also looking to use natural gas to create the fuel, which could then be exported across Europe.
Commenting on the strategy, Nick Cooper, CEO of Storegga and lead developer of the Acorn CCS and Hydrogen Project, said: "Hydrogen is crucial to rapidly support our low carbon transition and is a major tool in the UK reaching Net Zero. The ambition of the UK's first Hydrogen Strategy is encouraging and more definition of the details in the 10 Point Plan is welcome.
"The Scottish Cluster is expected to provide 1.3 GW of low-carbon hydrogen production by 2030 (ca 25% of the UK Government's 5 GW 2030 target), and to further scale up to 3.7 GW by 2050. With approximately 35% of the UK's current natural gas supply arriving at St Fergus, the co-located Acorn Hydrogen Project will provide the foundations for wide scale hydrogen adoption across the UK.
"History shows that the adoption of new fuels such as hydrogen normally takes decades; however the pace of climate change is such that we do not have the luxury of time.
"Blue hydrogen, utilising the Acorn CO2 Storage Site (the UK's most advanced CO2 store), is rapidly available, cost effective and scalable: enabling customers to begin switching to hydrogen as early as possible.
"The Scottish Cluster is critical to enable and accelerate low-carbon hydrogen deployment; without the Scottish Cluster, hydrogen adoption in Scotland and across the UK will be significantly delayed. The IPCC report last week has evidenced that we do not have time for any more delays."
Meanwhile, Neptune Energy's blue hydrogen – CCS scheme was recently confirmed as being among five projects that met the UK Government's eligibility test.
Located at the former Theddlethorpe gas terminal in Lincolnshire, the initiative, referred to as DelpHYnus, is progressing towards a final decision later this year.
Kedar Pandya, director for cross-council programmes at the engineering and physical sciences research council, part of UK Research and Innovation, added: "The UK is internationally recognised for hydrogen research and innovation, and it will play a key role in delivering Government's strategy.  Decades of investment have developed our understanding of production, storage and integration technologies.
"Convergence of UK academic strength, policy need, technology maturity and business readiness in the UK means we are very well placed to realise its potential as an alternative fuel source as part of a Net Zero energy system.
"The latest IPCC report has reaffirmed the need for vital work to meet our net zero commitments and EPSRC will be launching further investment in hydrogen production and integration to better understand our options across the whole hydrogen value chain."