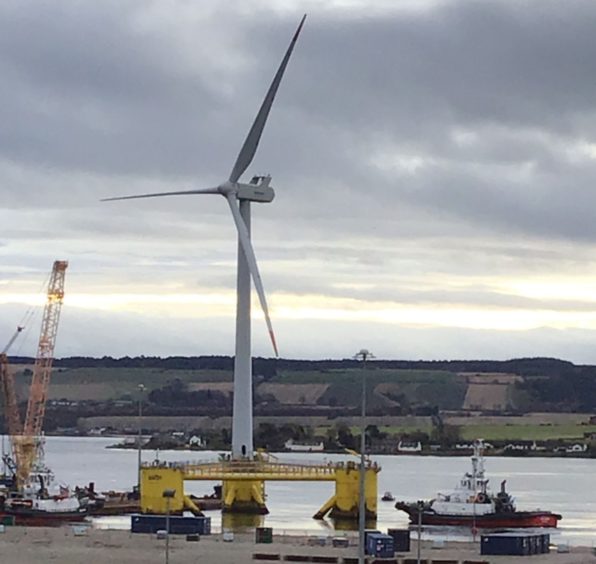 Experience working in "harsh marine environments" means Aberdeen's oil and gas industry acts as a  good template for floating offshore wind.
Benj Sykes, UK offshore vice president at Danish renewables giant Orsted, said the floating sector should look to "replicate" the skills on offer in the Granite City.
My Sykes was speaking in Aberdeen during the last day of RenewableUK and ScottishRenewables' Floating Offshore Wind conference, held at the P&J live on Wednesday and Thursday.
He said: "There's no doubt that wherever there's subsea and deepwater oil and gas going on, you will hear an Aberdeen accent. That's the case around the world, whether it's in Africa, Asia or the US.
"That capability, that knowledge base, that skills base that's been built up, that's what we've got to replicate. But also, all of those value adding technologies, whether that's mooring systems, cabling systems, installation or marine services.
"Those are the kind of things where the engineering knowledge and capability of working in harsh marine environments that we have here in Aberdeen is going to be so crucial.
"If we can unlock that here, then we can export that and unlock the opportunities globally."
Mr Sykes also said that Scotland has a chance to be in the "vanguard" of floating offshore wind worldwide.
Despite the technology being in its relatively early stages, Scotland is already home to two floating developments.
Equinor's Hywind Scotland – the world's first commercial floating wind farm – is currently producing green energy off Peterhead.
Down the coast, the Kincardine Floating Offshore Wind Farm is entering its final stages of installation near Aberdeen.
Claire Mack, chief executive of ScottishRenewables, told attendees at the conference: "There's no doubt about the attractiveness of renewables globally in terms of investment.
"In the UK, offshore has clearly seen the bulk of our renewables investment ahead of the rest of the world, which is very much focussed on investment on solar and onshore.
"But, we want to go further. We're sitting here in this room talking about the next level, the next stage of investment, the next opportunity which is amazing.
"In the UK, we're leading Europe in terms of investment capacity, so it's only right and proper that we're starting to think about what's coming next.
"The UK is in the top three markets for floating and by 2030 that will still be the case, alongside South Korea and France. But we also know that Japan, China and the US are developing at pace and we can work with them."
During the session, which also featured speakers from RWE Renewables and Copenhagen Offshore Partners, panellists were asked what is on the "wish list" for "political asks".
Stephen Bull, executive vice president, renewables at Aker Solutions, said: "We do have some elements around floating in the sector deal but it's time to ratchet that up a bit.
"In particular, for want of a better word, we need a floating tsar to coordinate policy, and that goes for Scotland, England, Wales and Northern Ireland."
Recommended for you

Cerulean Winds signs exclusivity agreements for three INTOG floating wind sites