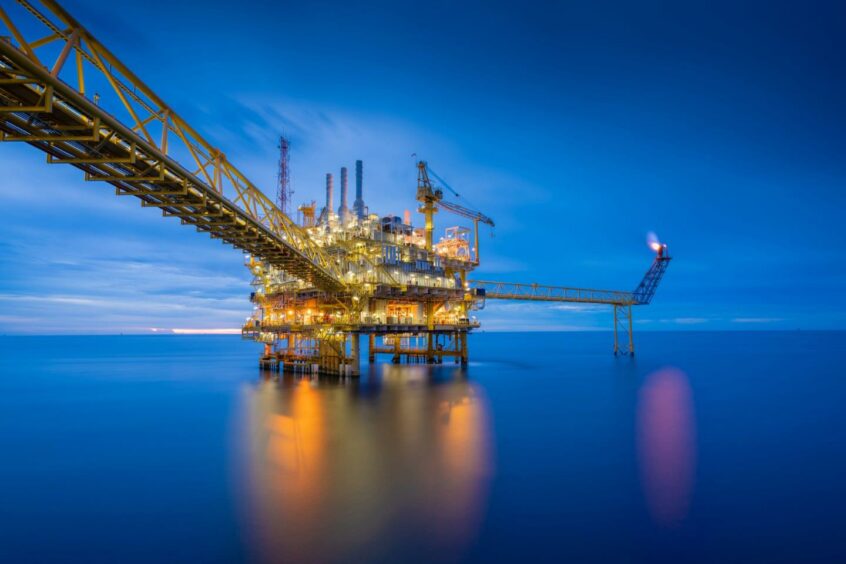 UK offshore oil and gas emissions fell by 10% last year, compared to 2018, as Covid-19 sparked lower levels of activity.
According to estimates from Oil and Gas UK (OGUK), published in its Energy Transition Outlook report, around half of the decline is the result of reduced production and maintenance.
Overall though, emissions fell "significantly further" than would have been expected from a reduction in offshore activity and production.
Operators beginning to realise "near-term emissions reduction" through reduced flaring and venting, streamlining operations and investing in modifications all played a part.
As such, the trade body says industry is on track to achieve its target of a 50% cut in emissions by 2030.
The Energy Transition Outlook
The Energy Transition Outlook reflects on the "enormous changes" in the sector over the last 18 months, as well as the "practical and policy steps" needed to hit net zero by 2050.
It sets out industry actions to "proactively" reduce methane emissions, including signing up to the World Bank Zero Routine Flaring objective.
Moreover, the report commends UK oil and gas companies for "leading in renewable and alternative energy investment opportunities", including offshore wind.
Mike Tholen, OGUK's sustainability director, said: "The UK's offshore oil and gas industry is changing. Our members are breaking ground today on projects and technologies that will revolutionise the UK's energy systems. Those technologies will remove greenhouse gases, increase our energy security and resilience, and help meet the UK's goal of becoming carbon neutral by 2050.
"They will also create jobs. It means that people from Liverpool to Hull and from Shetland to Southampton could benefit economically from achieving net zero.
"Our report also shows, however, that these new technologies will need long-term support and investment, especially in their early years. That means support in both terms of overall policy and in the way they are financed. This is a project that will take some years, but it is also one that will help secure our nation's low carbon future."
Carbon Capture and Storage
With the oil and gas industry boasting "unique experience" in managing large offshore infrastructure projects, it will be "key" in implementing low carbon solutions, particularly carbon capture and storage (CCS).
Indeed, OGUK's report claims the UK could be storing 100 million tonnes of CO2 a year under its surrounding seabed by 2050 – equivalent to a quarter of its current annual emissions.
CCS projects already in development will cut the oil and gas industry's own emissions, as well as enabling the decarbonisation of hard to abate sectors, the paper said.
In total, rock formations under the North Sea and east Irish Sea have the capacity to hold 78 billion tonnes of carbon.
That's about 190 times greater than the UK's own annual emissions of 400 million tonnes.
Busting offshore emissions
Westminster published its Net Zero Strategy recently, which underlined the importance of CCS and hydrogen to meeting carbon reduction targets.
And earlier this year ministers signed the North Sea Transition Deal (NSTD) with industry in order to drive down emissions from the basin.
Will Webster, OGUK's energy policy manager, said: "We have got a number of projects coming that will connect oil and gas production to the onshore electricity system – that will reduce emissions substantially.
"That's quite a big element of the NSTD that we agreed with the Government back in March, alongside things like CCS and hydrogen.
"It's our belief that there's a big necessity to continue to produce in the North Sea and to invest in new production."
A snub for Acorn
The report has been released at a pertinent time, with CCS a topic of hot debate in recent days.
On Tuesday the UK Government revealed which two CCS projects would form its "Track 1" cohort, meaning they'll be up and running by the mid-2020s.
While it was good news for HyNet and the East Coast Cluster – based in the north-west and north-east of England respectively – the Scottish Cluster was left disappointed.
It remains to be seen whether the project will be included in Westminster's Track 2 plans, inciting fears that Scotland's net zero commitments could be at risk.
The Scottish Cluster, which revolves around Aberdeenshire's Acorn CCS project, is viewed as vital for the future of the North Sea, both in terms of tackling emissions and reusing infrastructure.
'It will happen'
But OGUK said it didn't think Government's decision not to progress the project would affect the offshore industry's net zero targets.
Mr Tholen said: "This is just the first part of the story; there's going to be a lot more to say. We would struggle to see any future that doesn't involve Acorn and the development at St Fergus being part of the long term decarbonisation of the UK economy.
"It is the best tool by far to decarbonise the Scottish economy. It will happen.
"There's a number of horses in the race and it's behind the other two at the minute, but that doesn't mean that it won't pull up alongside and maybe even accelerate beyond them."
Mr Webster added: "What we're expecting is that by sometime in the 2040s, the CO2 storage facilities will be larger than the emissions that come from the combustion of the oil and gas that you're getting out.
"We're expecting a net zero basin by that stage and so I wouldn't say one decision on what things come in which order will actually come into play on that at all."
Despite the optimism, anger remains in many quarters at the UK Government's decision not to back the Scottish Cluster.
In response to the Energy Transition Outlook, Stephen Flynn, SNP MP for Aberdeen South, said: "This timely report reaffirms the importance of CCUS as we move towards net zero and reinforces what the independent Climate Change Committee have said – CCUS is a necessity for achieving net-zero – painting into even sharper focus the terrible decision by the UK government in not prioritising the Acorn project.
"The North Sea has incredible existing capacity for the storage of CO2 which makes it all the more disappointing that the UK Government is not maximising its potential by backing CCUS here in the North East.
"CCUS could play a central role in the North East's economy and in helping us achieve a net zero future, but we need a UK government willing to recognise that fact."
The Department for Business, Energy and Industrial Strategy has been contacted for comment.