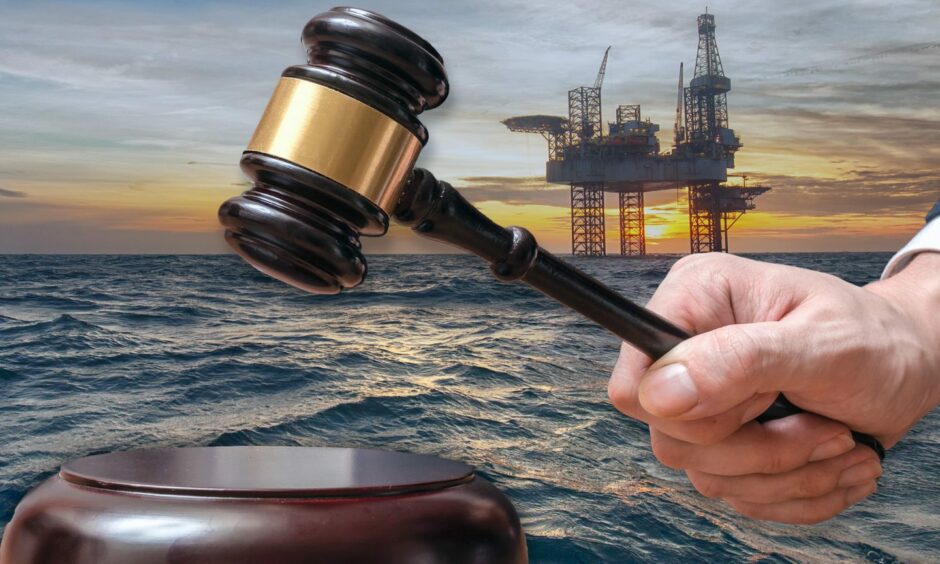 Almost irrelevant of who wins what, the 33rd oil and gas licensing round will be scrutinised more closely than any that have gone before.
Holes in the UK's energy security – painfully exposed following Russia's invasion of Ukraine – means there is pressure on the North Sea to turn exploration into production at an unprecedented pace.
At the same time, there is loud opposition from those who see new oil and gas as an indefensible affront to the UK's climate change commitments.
Results of the process, launched during Liz Truss' short lived tenure as Prime Minister, are expected in the third quarter – between July and September.
A total of 898 blocks and part-blocks were offered up by industry regulator the North Sea Transition Authority (NSTA), with the application window closing in January.
Within that, the NSTA identified four priority clusters in the Southern North Sea, "which have known hydrocarbons, are close to infrastructure and have the potential to be developed quickly".
It was subsequently revealed that 115 applications, covering 258 blocks and part-blocks, were lodged by 76 companies aspiring to be at the forefront of the UK's next exploration drive.
While the lion's share of those bidders are keeping their cards close to their chest, several have publicly stated that they are in the race, while one notable name also ruled itself out.
Below is a list of the companies that have thrown their hat into the ring.
Oil and gas companies that bid in the 33rd licensing round
1. Deltic Energy
For a relatively small player Deltic Energy (LON: DELT)  has caught industry's imagination in a big way, owing to its involvement in a landmark Southern North Sea find.
Drilled in partnership with energy giant Shell, Pensacola is the largest discovery in a decade, containing over 300 billion cubic feet (bcf) of gas.
But far from sitting back and reflecting on its success, Deltic is aiming to go further, and carried out a fundraise last year to finance its bids.
"Everything we've achieved has been through picking up licences in varying rounds," company chief executive Graham Swindells told Energy Voice earlier this year.
And off the back of such recent and high profile success, there will be more than a few eyes watching and waiting to see how Deltic gets on.
2. Orcadian Energy
London-listed Orcadian Energy (LON: ORCA), previously called Pharis Energy, went into more granular detail than most on the makeup of its bids.
The company, operator of the Pilot field, has made three licence applications, two in partnership with others firms, and one solo offer.
"One of the applications builds upon Orcadian's viscous oil experience whilst the other two applications are focused on gas opportunities, including a potential gas-to-wire project on an appraised discovery, with integrated carbon capture, which could deliver baseload electricity with minimal emissions," Orcadian revealed earlier this year.
Steve Brown, the company's affable and front facing chief executive, says they have specifically focussed on "opportunities where we believe we have a competitive advantage".
Orcadian will be hoping to replace the 25-million barrel P2320 licence after being forced to give up the prospect by the NSTA in May.
3. Baron Oil
Something of an unknown quantity, especially compared to others on this list, Baron Oil (LON: BOIL) has just one existing UK project.
But the London-listed company is aiming to build on its 32% stake in the Reabold Resources-operated P2478 licence, which contains the Dunrobin prospect.
Baron, as a joint venture non-operating partner, confirmed in January it had submitted an application in the 33rd oil and gas licensing round.
It followed "technical screenings of the areas made available" in the process, in line with the firm's "strategy of acquiring significant equity stakes in potentially high impact oil and gas exploration and appraisal prospects at low entry costs".
Outside of UK water, Baron holds exploration acreage off Timor-Leste – aggregate gas-in-place and recoverable gas resource estimates at the site were significantly boosted last year.
4. Hartshead Resources
Australia's Hartshead Resources (ASX: HHR)  is another relatively unfamiliar face in these parts, though the company is making waves.
Viaro Energy recently agreed to buy the majority stake in a series of North Sea fields from Hartshead in a "landmark" £105m deal.
Under the agreement, Viaro is becoming 60% owner of Licence P2607, comprising the Anning and Somerville fields, as well as the Hodgkin and Lovelace plays, and thought to hold 301.5 billion cubic feet of gas.
Hartshead is expected to spend north of £100m in the next couple of years to bring Anning and Somerville online.
On top of that, the company wants to "potentially target new licenses and additional resources to add to our existing portfolio".
5. IOG/CalEnergy Resources
It has been a torrid few months for London-listed operator IOG (LON: IOG), as the company endured numerous setbacks at its flagship Saturn Banks project.
The delays resulted in a pre-tax loss for 2022 of £17 million, reported in the firm's full-year results, in which it also confirmed entry into the licensing round.
Alongside partner CalEnergy Resources, IOG has bid for nine Southern North Sea exploration blocks, across five licences.
All target licences are adjacent to existing Saturn Banks licences and contain discovered resources, it said, offering both redevelopment opportunities and near-field exploration potential.
"If successful, these applications could add tangible value to all of our gas hubs," IOG stated.
6. Parkmead Group
There are few who know the North Sea better than Aberdeen-headquartered Parkmead Group's (LON: PMG) executive chairman, Tom Cross.
The industry veteran was the founder and CEO of Dana Petroleum, right up until its sale to the Korea National Oil Corporation in 2010, and has spent time at the likes of Conoco and Thomson North Sea.
Like IOG, Parkmead revealed in its financial results that it lodged "selective applications" in the 33rd oil and gas licensing round, as part of the independent's commitment to the "UKCS oil and gas industry".
7. Cornerstone Resources
Cornerstone Resources confirmed to Energy Voice that it had applied to the NSTA for exploration licences.
As it stands the firm has a relatively modest North Sea portfolio, with the Abbey and Baker prospects the most notable.
Petrogas farmed into the plays last year, and the pair are working towards FID before the end of 2023.
Separately, Cornerstone bought up several assets from Painted Wolf Resources in 2022.
8. Europa Oil & Gas
Europa Oil & Gas (LON: EOG) "participated in the UK 33rd licensing round and is actively pursuing new opportunities", the firm said in its interim results, published in April.
In doing so the London-listed exploration and production company is aiming to "expand our portfolio and generate shareholder value."
In April last year, Europa farmed into licence P2358 in the Outer Moray Firth, which contains i3 Energy's Serenity play.
I3 had thought the field had 200 million barrels in place, with 100 million recoverable, but the prospect proved to be a disappointment.
9. Serica Energy
Now amongst the North Sea's largest producers, Serica Energy (LON: SQZ) has so far stopped short of officially confirming it has bid for further licences.
In an interview with Energy Voice earlier this year, CEO Mitch Flegg said the firm "certainly looked at nearby opportunities there might have been in that process".
One thing Serica is clear on is its desire to extend the life of assets, and tie-backs – secured through exploration or otherwise – are an effective means of achieving this.
Around the same time that the licensing round was wrapping up, the company was completing a deal to buy North Sea counterpart Tailwind Energy.
The takeover moved Serica into the top-10 club of producers in the UK North Sea, and Mr Flegg has said there are ambitions to build upon that further.
Oil and gas companies that didn't apply for an exploration license
Harbour Energy
One company that unequivocally ruled itself out of bidding in the 33rd licesing round is Harbour Energy, the basin's top dog.
Just before the end of the year the company confirmed it would shun the process, in retaliation to the government's decision to increase the windfall tax a few weeks earlier.
Harbour, one of the most vocal critics of the levy, said it had to review its spending plans in light of the fiscal change, and would not participate in the round.
A spokesperson for the independent said: "As a result of the extension of the energy profits levy announced in the Government's Autumn Statement, we are reviewing investment levels and company-wide capital allocation.
"This review is ongoing and, in the meantime, we have decided not to submit bids as part of this licensing process.
"We have good opportunities within our existing North Sea and International portfolios, and these will be our focus at this time."
It subsequently announced job cuts in Aberdeen, again blaming the windfall tax, though there is debate around whether that was the true cause.
Recommended for you

NSTA: £4bn of North Sea developments approved in 2023