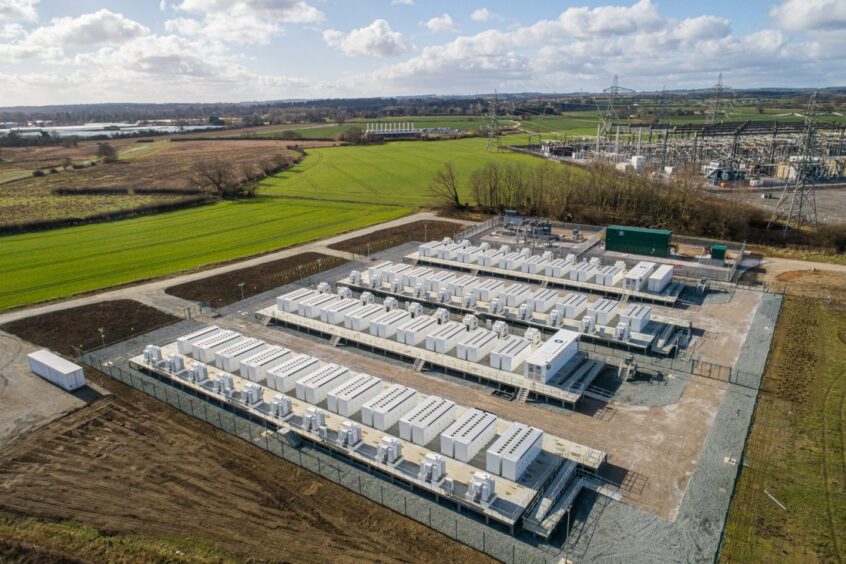 The rapid expansion of energy storage is of course great news for our ability to deploy and use renewable energy – but doing so is not without its own challenges.
Batteries require raw materials from all across the world and an ever more complex supply chain; pumped storage sites require major changes to land use and access; and what can we do with facilities or assets that reach the end of their life – is it better to re-use, recycle or decommission?
Joining Energy Voice content editor Andrew Dykes are Professor Simon Pringle, who heads up the newly created Sustainability and ESG Hub at BDO, and Peter Kavanagh the chief executive and founder of Harmony Energy.
An independent developer and operator of renewable energy and battery assets – including the largest battery in Europe at Pillswood, UK – Harmony also has a listed Energy Income Trust. This invests in commercial scale energy storage and renewable energy generation projects across Britain – putting it at the sharp end of interaction between prospective investors and the emerging storage boom.
In Simon's view, any discussion of sustainability in relation to business – and indeed energy storage – is really about "rethinking the way in which businesses create value" in a way that protects value and manages risk within planetary boundaries, both social and environment.
Peter says these concerns are already "very high up" on investors' priority lists – something Harmony takes seriously but which has also enabled it to garner its own support. "If you ask most of the institutional investors in [the trust], the reason they're invested in Harmony is for our sustainability credentials," he explained.
Even so, it isn't enough that a company such as Harmony is supporting sustainable and renewable energy; as Simon points out, the business must have its own ability play a part in a wider and more sustainable economy.
"I think the agenda is moving on to say: 'We need to know what sits behind this really important value proposition at the front end.'" he added.
This feeds into decisions right the way down the supply chain. In Harmony's case, Peter says the firm remains "completely technology agnostic" in terms of setting up its storage assets.
"We have used batteries from Tesla, we've recently signed with another company called Envision, who are less well known but fantastic company and the key driver of that again was their sustainability credentials," he explained.
While that involves large-scale suppliers across the world, it also involves local suppliers; for Harmony's Pillswood site it sourced transformers from a company based in Leeds just half an hour of from the site, and steel from another near Warrington, around an hour away.
"Where we can, we will utilise local resources, which is all important in trying to reduce the overall carbon chain," he noted.
"I think we still as an industry have a difficulty in that naturally a lot of the components for these products still comes out of the of the Far East.
"More emphasis on trying to build out, whether it's gigafactories in Europe or more component manufacture inside Europe or the UK I think is really important going forward."
While Simon agrees there are some "really open questions" as to the social and environmental impact of some of the extractive industries that feed the energy and battery storage market, he is encouraged by the smarter advancements already occurring in sectors such as EVs, where the use of materials is decreasing and their recoverability at end of life is increasing.
"I think the risk is if we get carbon tunnel vision and ignore all of the social and the biodiversity, water, educational – frankly, any number of different impacts – that would be a tragedy in the making. Keeping that in balance as we go forward is going to be key."
In Scope
Like all businesses, Harmony is getting to grips with Scope 1 and 2 emissions via internal policies on things like travel and buying renewable energy.
"Scope three is obviously the big one – in terms of the battery cell manufacturing it's the big one that we try and address as best we can," Peter adds. "For example, on the last contract we signed with envision, those cells come through a renewably powered manufacturing facility."
Further work is being done using a new platform developed by the company, which he hopes will enable even greater transparency across the whole of the business.
Alongside li-ion batteries, he says other technologies such as flow batteries have also been explored, though cautioned that "we need to make it not only environmentally sustainable but also financially sustainable," and – at the moment at least – costs remain "challenging."
It's this balance of cost, usability and recyclability that at present leave li-ion dominant.
"With a lithium ion battery you've got very good efficiency levels in terms of the amount of electricity you use to charge a battery, he adds. "With other systems you use a lot more energy and you don't get that energy back, so you lose a lot financially, but also energy-wise as well. So it's not as useful as it can appear in the headline."
End-of-life storage assets
Peter says Harmony's warranty agreements with supplier Tesla cover them for 20 years, after which recoverability rates from li-ion cells are generally around 92% – a figure he suggests is encouraging for a wealth of new business already springing up to either repurpose or re-use materials.
Simon says these new ventures are moving ahead of regulations for battery recycling – a fact he finds encouraging.
"If we're being optimistic and looking at a US, EU, UK, kind of regulatory framework, then it's probably not beyond the realms of ambition to expect something to come in quite quickly behind those recoverability cycles and help a market define itself and really start repricing the value that these components and elements maybe," he added.
He is equally confident that recycling is likely to be profitable and sustainable – if only because "it's going to be a lot easier to recover lithium from a bunch of batteries that have come out of a car that's reached the end of its useful life than it will be to actually go get it in the first instance."
Yet Simon also makes clear that for an energy storage business – indeed any business – the criteria for meeting and exceeding these ESG and sustainability commitments are only getting stricter and investors are becoming increasingly wary of "greenwashing".
"I think we are in a place where just being a renewables business, just being a storage business, just being a network or generation business that's enabling the transition – is that sufficient anymore? No, because it's only one part of one part of the agenda," he added.
"I think that's really important, and particularly in the way that consumers and community investor and stakeholder expectations shift, the type of information that want to see – I don't think renewables or storage are in any way immune from that."
Listen to Episode 08 of The Megawatt Hour.
Recommended for you

Investment lights the way for success for Genny Hire