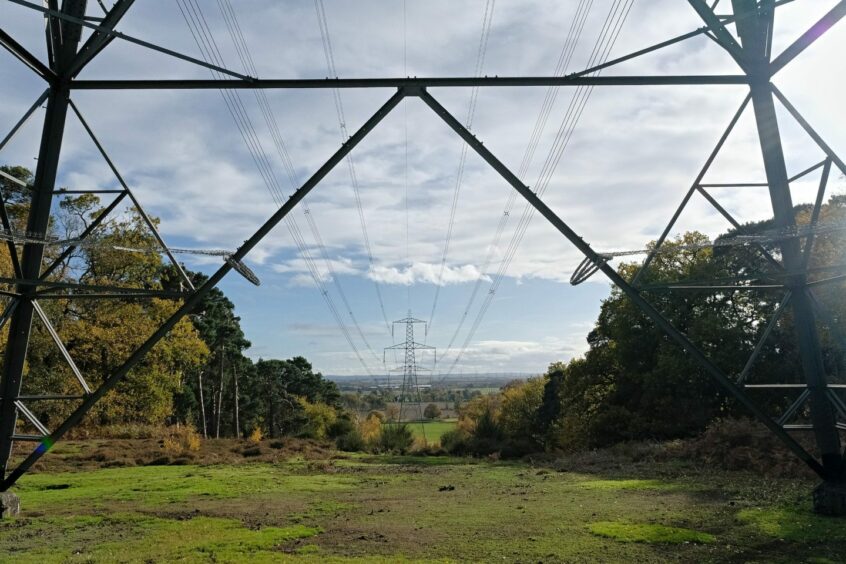 The Megawatt Hour is the latest podcast boxset brought to you by Energy Voice Out Loud in paid partnership with BDO. This monthly series examines how energy storage technologies are reshaping, reinforcing and recharging energy markets in the UK and around the globe.
In our first episode of 2023 we dive into arguably the most important aspect of how we are going to use and deploy energy storage – the network that underpins much of our electricity and energy systems, also known as the grid.
Energy Voice's Andrew Dykes is joined by BDO corporate finance partner David Bevan and RenewableUK director of future electricity systems Barney Wharton.
Discussion begins with the basics. As Mr Wharton explains, the concept of the "grid" usually has two aspects, the first of which is the physical transmission infrastructure everyone can see – cables and wires and pylons which carry electricity across the country and into our homes.
The other side is the electricity system operator (ESO), responsible for deciding how the power should flow around that physical infrastructure.
Confusingly, he adds, they're both called National Grid – though one is the TSO, and the other is ESO.
In the latter case, "their primary job is to keep the lights on and make sure that system works – the ESO is the customer but very much on our behalf," he adds.
Guiding those decisions is the UK's electricity, Office of Gas and Electricity Markets (Ofgem), who essentially set the rules of the system, with policy direction set by the UK government.
"It's the government that are setting targets for decarbonisation of the power system, as well as ambitions and strategies that will put in place the markets that will drive investment in lots of the technologies that we need," Mr Wharton continues.
That direction is currently towards a zero-carbon electricity supply by 2035, and to have a zero-carbon capable grid – i.e. one that can run only on renewables for short lengths of time – by 2025.
"That's only a couple of years away now, and that's going to be a really important staging post. If we can manage even five to ten minutes when there's no fossil fuel on the generation, that's really impressive.
"And it's going to be difficult because there are certain services and features of fossil fuel generation that are really important to maintaining the stability of the network, and that they can't always be provided by renewables," he continues.
This is where storage technologies will prove to be a key enabler.
Spinning plates
Given the ESO's job to ensure the balance of supply and demand on the system, technologies like battery storage can be called upon to provide a host of services to ensure grid stability. (For more on these, listen to previous episodes with Fluence and Flexitricity).
Meanwhile, other storage technologies such as pumped hydro can help replace vital inertia provided by other spinning fossil plant.
"You've also got technologies coming forward like liquid air storage – and that provides inertia because again it's turbine that can be synchronised with the grid and provide those sorts of services," Mr Wharton says.
"So as more and different technologies for storage come on board we can replace the role of thermal plant with these other technologies, and that's really exciting."
Nevertheless, forecasting how much of these technologies will be needed, of what type, and where to deploy them remains a challenge. Mr Wharton says various forecasts put the total amount of expected storage on the UK grid at somewhere between 50-80GW, including around 20GW of batter capacity by 2030.
In a future system however, that capacity will not be confined to the energy sector, with flexibility offered by other technologies such as hydrogen, and by electric vehicles (EV) who as vehicle-to-grid capabilities expand.
"Rather than building to a target…it's going to be making sure that that the markets there and the signals are there to bring forward the investment in storage so it's there when we need it," he continues.
"The shorter-duration battery market is doing really well, but it's that long duration stuff – through to day-to-day week to week and even into seasonal storage – that's where we don't have the sort of markets we need right now."
Creating those markets and the incentives for developers of larger projects – particularly things like pumped hydro – should be a priority job for government, he says.
Working smarter (and harder)
Alongside policy, a smarter grid will also be essential to incorporating more renewable energy – and indeed in supporting the storage build-out.
On the generation side Mr Wharton says weather forecasting is increasingly accurate, enabling plant owners to judge how much power their solar or wind assets can produce and at what time. Meanwhile on the demand side, better data and smart systems mean energy systems can be made far more flexible. He pulls on the example of using AI to fridges up and down across a major supermarket chain to balance according to a shortfall or excess of power.
Looking to next 12 years however, heat presents perhaps the biggest challenge.
"That's the really big challenge, because if everyone moves to heat pumps or plugs in their EV at the same time and there's no smart way of managing demand you're going to a [demand] spike, which we won't be able to manage.
"The biggest question is how do all these things come together in a very smart way with the necessary system upgrades as well as to networks and wires in a way that we can keep everything rolling?"
All of which presents perhaps the key obstacle for grid in the coming years.
By maintaining the priority of reaching net zero, but trying to do so at the lowest cost, Mr Wharton suggests there is a danger of thinking too short-term around the scale of infrastructure upgrades needed – or as he describes it: "Basically not spending any money on infrastructure, sweating the assets we do have and not building for the future."
"We've been doing that for 30 years. So that means actually at some point we're going to have to build a huge amount more network to deliver all of this in one go – and when that hits, that's going to be really expensive.
"The reality is actually that's basically happening now. We're starting to see it and we need to build a lot more grid that we haven't really been building."
This process too will be difficult, requiring far more rapid grid connections and greater policy direction to ensure the necessary pieces are built.
The supply chain too will come under greater pressures as many more nations embark on the same transition, resulting in greater competition for vital components – "Another reason why we need this kind of strategic approach to the whole system to ensure that we can we can get the materials we need when we need them," he adds.
Despite those and headwinds however, Mr Wharton – like many in the energy transition space – remains optimistic that it can be done.
"We're definitely heading in the right direction. I don't think we should be naive about the challenges on the grid and building enough generation to get there. But it's definitely achievable."
Listen to Episode 06 of The Megawatt Hour.
Recommended for you

All Winser advice accepted amid UK pledge to speed up grid connections