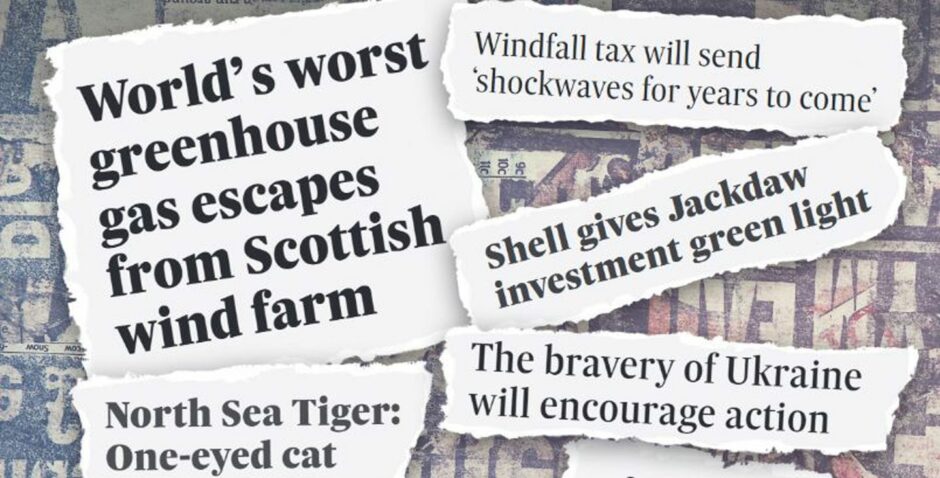 In a year like no other, we present a rundown of some of Energy Voice's biggest headlines of 2022.
If the energy sector had hoped for a quiet year to continue its post-Covid recovery and make headway on a key transition projects, it was not to be.
War in mainland Europe, inflationary pressure and political turmoil – not least in the UK, which saw three prime ministers within a matter of months – all fed a worsening crisis that has thrust energy into the spotlight.
However, there were moments of levity too – whether in the form of one-eyed cats or haunted rigs.
Energy Voice has picked a selection of the biggest and brightest headlines from a year like no other.
Russia, Ukraine and a global energy crisis
The story which has dominated almost all news coverage this year has been Russia's invasion of Ukraine, an act of unprovoked aggression which likely to cast a shadow over geopolitics and the energy sector for the next decade.
Though the wheels of a supply crunch were already in motion, the late February invasion fuelled a worsening energy crisis across the globe, and prompted a wave of high-profile exits from the likes of Shell (LON:SHEL) and BP (LON:BP), investment freezes and balance sheet adjustments of many of the oil and gas sector's largest players.
Nord Stream
Timeline: Everything you need to know on the Nord Stream sabotage
Amid the fallout of the Russian invasion, the Nord Stream and Nord Stream 2 pipelines also became a focus of controversy as maintenance work, supply reductions and subsequent leaks that prompted nations to point the finger at each other claiming sabotage.
North Sea windfall tax
Industry slams oil and gas windfall tax which will send 'shockwaves for years to come'
By far the greatest domestic controversy has been the imposition of a windfall tax on North Sea oil and gas producers (and latterly electricity generators).
After a months-long 'will-they/won't they' political battle, the Energy Profits Levy (EPL) landed in late May, raising the headline rate of tax on from 40% to 65% but offering generous tax rebates to those who invested in new oil and gas projects until a sunset at the end of 2025.
The move was welcomed by the public and politicians but decried by industry – a situation worsened by an Autumn Budget that upped this rate to 75% and extended the policy's duration until 2028.
The industry continues to seek a floor for the tax should oil and gas prices recede, but the shadow cast by its implications is likely to affect industry relations and investment plans well beyond 2023.
Ithaca buys Siccar Point
Ithaca Energy to buy Cambo operator Siccar Point in $1.5 billion deal
Ithaca Energy's acquisition of rival Siccar Point is perhaps the North Sea's biggest headline deal of the year.
In addition to doubling its recoverable reserves, the move will see a new backer seek to progress the Cambo (70% operated stake) and Rosebank fields (20% equity) – two of the basin's most controversial projects.
Having since completed a high-profile London listing, Ithaca (LON:ITH) said it could spend up to £1.1 billion, as four new projects approach a final investment decision (FID) in the next 12 months or so.
Jackdaw confirmed
Shell gives investment green light to Jackdaw gas field in North Sea
Shell confirmed in July that it would invest in its Jackdaw gas field, after a new push for energy security prompted approval for the 40,000 boepd project.
The future of the field had seemed in doubt in 2021, when the Offshore Petroleum Regulator for Environment and Decommissioning (OPRED) declined to approve the environmental statement for the project, yet new support from Westminster and rebates from EPL allowances mean the scheme is now expected online in 2025.
Wildcat walkout for 'wage revolution'
Workers on several North Sea platforms stage wildcat walkout in 'wage revolution'
Alongside windfall taxes, record profits amongst oil producers have also prompted growing worker discontent throughout 2022.
This was perhaps best exemplified by a wave of wildcat strikes initiated in May, as hundreds of workers downed tools in a bid to seek pay uplifts in line with soaring inflation rates, in what was billed as a 'wage revolution'
One-eyed feline stowaway
April saw a brief moment of respite from the worrisome headlines when a one-eyed black cat found his way onto an offshore installation, prompting a rescue mission to return him to his home – near HMP Peterhead.
Block wire breaks during tests on Saipem 7000
Dramatic footage emerged in early Q2 when a block wire broke during a test operation onboard crane vessel Saipem 7000.
The incident left the ship listing and partially capsized in a channel north of Stavanger – though quick repairs saw the vessel return to active service off Angus several months later.
Offshore workers react to 'The Rig' trailer
'Nae a BOSIET in sight': Offshore workers react to 'The Rig' trailer
Offshore workers had much to say following the release of a trailer for Amazon Prime's new ghostly thriller, The Rig. The show – which premieres in early January – follows the crew of the Kinloch Bravo as they grapple with supernatural forces and are cut off from the outside world by an all-enveloping fog.
"A show about a rig full of dead zombie like-entities drifting around looking busy, and eating for 21 days? Must be based on a true story" one suggested…
Khan backs Reabold rebels
Watch: Boxing legend Amir Khan urges shareholders to deliver knockout blow to board of North Sea firm
In a rare crossover between the worlds of sport and energy finance, November saw British former professional boxing champion Amir Khan lend his backing to a group of rebel investors looking to take control of a North Sea oil and gas company.
IR35 ire
'I'm lost for words' – Hunt slammed after reversing plans to repeal IR35 reforms
A review of working tax arrangements known as IR35 has long been a bone of contention amongst contractors and the wider workforce – so long-promised reforms proposed by Chancellor Kwasi Kwarteng were celebrated.
However, the ousting of the Truss administration prompted a host of U-turns and the policy, for now at least, is set to remain
SF6 at Seagreen
Exclusive: World's worst greenhouse gas escapes from giant Scottish wind farm
It isn't often that renewables projects come under fire for their emissions – which made it all the more notable when it came to light that workers had been forced to evacuate a transformer platform at the £3bn Seagreen wind farm, following an escape of "the most potent greenhouse gas" in the world.
Stranded sailor swims five hours to oil platform after chance meeting with seal
Stranded sailor swims five hours to oil platform after chance meeting with seal
February saw a miraculous tale after a Californian man who toppled out of his boat in the middle of the night was able to swim to a nearby oil platform thanks to the help of a kind-hearted seal.
When Stephen Hendry and Dennis Taylor played snooker on a North Sea oil rig
When Stephen Hendry and Dennis Taylor played snooker on a North Sea oil rig
Perhaps sporting crossovers are more common than one might think. One particularly EV favourite this year was an archival piece recounting the time when three leading snooker stars, including Scotland's Stephen Hendry flew out to Total's Alwyn North platform to meet the workforce and exchange tips and tricks in the winter of 1992.
Namibia's promise
On February 24, much of the world was watching Russia's invasion of Ukraine. South of the equator, though, Total (EUR: TTE) was announcing a second discovery in Namibia's ultra-deepwaters. Shell (LON: SHEL) had posted its own discovery just days before.
The two companies are now pressing ahead with appraisal of the respective Venus and Graff finds.
Meanwhile, onshore, Reconnaissance Energy Africa (TSXV: RECO) has faced a trickier time as it attempts to balance drilling in a frontier basin with corporate needs.
Merger challenges
Capricorn announces merger with NewMed Energy, ditching Tullow
Higher energy prices this year sparked newfound interest in tying up corporate interests. The question of when to do a deal, and at what price, became a particularly vexed issue.
One such instance of a merger problem came with Capricorn Energy (LON: CNE). The company had planned to merge with Tullow Oil (LON: TLW), under a plan hatched in June. Opposition mounted until Capricorn ducked out, swapping Tullow for NewMed Energy (TLV: NWMD).
The cast may change but shareholders remain unhappy and opposed to the company's plans.
Heading into 2023, with fluctuating prices and challenging geopolitics, the path for mergers seems just as complicated as in 2022.
Recommended for you

CCU International lands six-figure deal with Unilever-SCI consortium