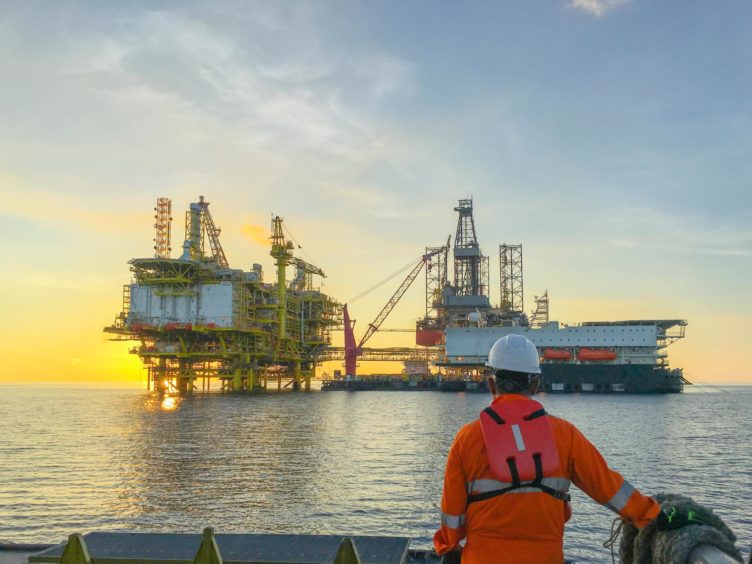 A host of major oil and gas projects dotted around the North Sea are due to start-up production in the next few years.
Based on current timelines, between 2023 and 2027 the likes of Rosebank, Cambo, Penguins and Jackdaw will all become active, as companies go after the UK's remaining reserves.
Analytics and consulting firm GlobalData has amassed a list of the key projects due to begin flowing during that timeframe, as well as estimates on total production capacity.
All in all, 94 oil and gas projects are expected to commence operations in the UK before 2027, the vast majority of which (61) will be upstream.
More schemes could also come from the latest exploration licensing round, the results of which will be published by the North Sea Transition Authority (NSTA) this year.
But experts have previously warned that the lion's share of the remaining oil and gas reserves in the UK North Sea have already been uncovered.
All ongoing and future projects are also likely to face intense opposition from environmental campaigners – they will also have to clear Westminster's climate compatibility checkpoints.
Himani Pant Pandey, an oil and gas analyst at GlobalData, said: "A number of oil and gas projects are slated for development in shallow waters of the North Sea during 2023–2027. The shallow waters of the North Sea still have an important role to play in promoting the UK energy security, especially in the context of weaning away from the Russian oil and gas supplies."
"Among the upcoming production projects in the UK, Rosebank is a key project with a total production capacity of 121 thousand barrels of oil equivalent per day. To be operated by Equinor, the project is expected to commence operations in 2026.
He added: "Despite concerns from the climate activists and an increase in windfall tax by the UK government on the oil and gas sector, the latest North Sea oil and gas licensing round in 2022 attracted around 115 bids, an increase of 11 when compared to the previous licensing round in 2019. The latest licensing round reflects efforts of the UK government to boost oil and gas production in the country."
Sweet 16
In total, GlobalData listed 16 North Sea oil and gas projects that it expects to come to fruition in the next four years – profiles on the big 10 are included below.
Companies are currently minded to get a shift on with developing them as well, given they're able to offset spend on new projects against their tax bills.
While the UK Government's North Sea windfall tax has been panned by industry, it does have one key sweetener – a generous investment allowance.
The original energy profits levy, rolled out in May, included an 80% investment allowance which, combined with other measures, meant firms got £91.25 back per £100 spent for oil and gas projects.
Under the higher rate of tax at 35%, implemented in November, companies can now claim £91.40 for every £100 invested.
And for electrification that goes further – meaning firms spending £100 on decarbonisation will receive £109.25 back.
Rosebank
One of the largest untapped reserves in the UK North Sea, GlobalData has Rosebank starting-up in 2026.
Operator Equinor (OSLO: EQNR) recently had to submit further information about the 300 million barrel, West of Shetland oilfield after concerns were raised by OPRED.
An extension to the Rosebank licences was approved by the NSTA last year, with plans to use the Knarr FPSO to produce the £8.1 billion project.
The Norwegian energy giant is expected to take a final investment decision on the field imminently.
A change of government could scupper Rosebank though, with calls from the UK Labour party for the project to be shelved.
Cambo
One of the few oilfields that can claim to be a household name, Cambo has been public enemy number one for climate activists since 2021.
It had looked dead in the water after Shell (LON: SHEL) said it wouldn't invest in the West of Shetland project, and analysts have said the oil giant could struggle to offload its 30% stale.
Nevertheless, operator Ithaca Energy (LON: ITH) intends to make an investment call on Cambo this year, and project partners are currently reviewing costs, with a drilling rig tender out.
Estimates put the field's recoverable reserves at up to 800m barrels of oil in-place, with the first phase expected to recover 170m of those.
Seagull
Neptune Energy, as operator, holds 35% of Seagull, while BP (LON: BP) and Japex have 50% and 15% in the Central North Sea project respectively.
The high-pressure, high-temperature field, estimated to hold around 50m barrels, is being developed as a subsea tieback to BP's ETAP platform.
Production is expected to reach 50,000 barrels of oil equivalent per day (gross), with start-up slated for this year.
Neptune bought its stake in the project from Apache in 2018, and made a final investment decision in March 2019.
Penguins
Penguins is a historic project for operator Shell, with the oil giant bringing in its first new UK North Sea manned vessel for 30 years to produce it.
The FPSO for the field is currently on its way to the field, but will stop off at Aibel's Haugesund yard on Norway's west coast first.
Sitting some 150 miles north-east of Shetland, Penguins is a redevelopment of a former tie-back field to the Brent Charlie hub.
It is expected to go live this year, and unlock 80m barrels of oil that would have otherwise been abandoned.
The project has already hit the headlines though after Greenpeace activists boarded the FPSO as it passed the Canary Islands – at the time of writing they're still in place.
Bentley
EnQuest (LON: ENQ) acquired operatorship of Bentley, as well as its sister site Bressay, in 2021 – both oilfields lie around 85 miles south-east of Shetland in the Northern North Sea.
A range of developments options are currently being weighed up to produce the field, with GlobalData projecting start-up next year.
Bentley lies less than 10 miles from EnQuest's producing Kraken field, and could yield 45,000 barrels of oil equivalent a day.
Jackdaw
Shell gave the investment green light for Jackdaw last year, just a few months after the project appeared to have stalled.
Energy Voice broke the shock news in 2021 that its environmental statement had been knocked back by the government.
But the UK's thirst for gas following Russia's invasion of Ukraine gave the gas field fresh momentum, and it is expected to become active in 2025.
Jackdaw will be a tie back to the Shearwater hub, about 155 miles east of Aberdeen, and could yield 40,000 barrels of oil equivalent per day at peak production.
It is another project that has become a target for environmentalists though, with a dedicated 'Stop Jackdaw' group formed to oppose its development.
Shell previously pledged to spend £500m in the UK in order to deliver Jackdaw, which could account for over 6% of projected UK North Sea gas production.
Mariner East
An extension to Equinor's flagship Mariner field, Mariner East could come online this year and yield 22,000 barrels of oil equivalent a day, according to GlobalData.
The scale of the field's recoverable reserves are currently not known, but it will be developed as a tieback to the main platform.
Operator Equinor has a 65.11% stake in Mariner, while JX Nippon (20%), ONE-Dyas (6%) and Ithaca Energy (8.89%) own the rest.
Under current plans, heavy oil from the extension will  be mixed together with production from Maureen and Heimdal, Mariner's two existing reservoirs.
From there it will be exported to the Mariner B floating storage unit, and exported via shuttle tanker.
Mariner started production in 2019 after a £6.4bn investment from the Oslo-listed company, one of the largest in the UK sector for a decade.
At the time it was thought the field would be able to continue producing through to 2050, but a major downgrade to its recoverable reserves was subsequently announced.
Tolmount East
One of six projects earmarked for fast track by the UK Government last year to bolster energy security, Tolmount East is located in Block 42/28d of the Southern North Sea.
It will be developed as an extension to Harbour Energy's (LON: HBR) existing Tolmount project, targeting around 53m barrels of oil equivalent of gas.
The development was sanctioned in July 2021, with first gas previously slated for 2023.
But the main body of the Tolmount project, now operational, was fraught with issues, and GlobalData expects the extension project to go live in 2024.
Verbier
Jersey Oil and Gas (LON: JOG) said in 2022 that it was making "great progress" in its quest to find a partner for the Greater Buchan Area (GBA) redevelopment, which contains the Verbier oil discovery.
The London-listed firm is currently completing studies to "validate and de-risk" the different solutions for the project.
The GBA also comprises the Buchan oilfield, and the J2 discovery.
It boasts estimated gross 2C economic resources of 162m barrels of oil equivalent, making it one of the biggest pre-FID developments in the UK North Sea.
A final investment call on the GBA project had been estimated in 2022, but Jersey reset the timeline in order to allow for electrifications studies.
Victory
After much mystery, it was finally announced that Shell was the unnamed buyer of Corallian Energy, owner of the West of Shetland Victory gas field, from Reabold Resources.
At one stage, a tieback to TotalEnergies' Laggan-Tormore pipeline was the preferred development option for the project, though it's unclear if that is still the case.
Victory is estimated to hold mid-case recoverable resources of 179bn cubic feet of gas.
It was one of five North Sea fields included in a list of list of infrastructure projects that Liz Truss' short-lived government was aiming to fast track.
Other notable mentions
A handful of other oil and gas projects slated for pre-2027 start-up were also highlighted by GlobalData, including Repsol Sinopec's Tain.
IOG's (LON: IOG) Southwark and Nailsworth plays also come in before the cut off, though the operator is currently battling an array of problems at its flagship Saturn Banks scheme.
Pierce, a Shell redevelopment project that started up production at the start of 2023, also made the cut.
GlobalData included Tailwind Energy's Senna project too, but last year the company handed back the licence for the field, described as "one of the largest undeveloped STOIIP (stock tank oil initially in place) accumulations in the UK North Sea".
It's a similar story for Parkmead's (LON: PMG) Platypus scheme, after the company gave up on the project in 2021
It remains to be seen whether the windfall tax investment allowance and return to high and oil and gas prices will breathe new life into either project.
Recommended for you

Ithaca could go it alone on Cambo – but plans not to