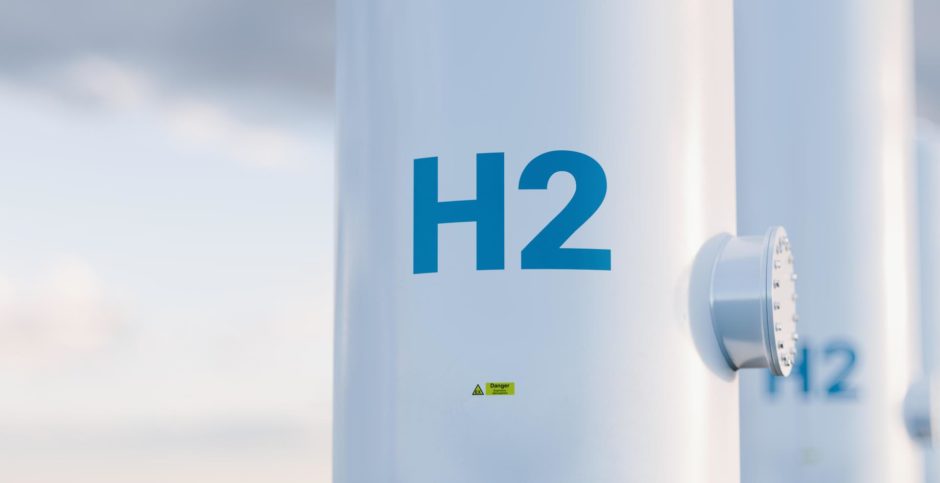 Comprising around three quarters of the universe's total mass, hydrogen is perhaps the most vital element on the periodic table.
In terms of the energy transition, it will undoubtedly play a key role in decarbonising fuel sources, providing a green solution to heating homes, driving transport and powering industry.
Westminster is targeting 5 gigawatts (GW) of low carbon hydrogen production capacity by 2030, supporting up to as many as 8,000 jobs.
To facilitate these aims it has earmarked £500 million to help support the green energy focused sector.
Following on from the inaugural piece in this series analysing the UK Government's 10-point plan focusing on offshore wind energy, Energy Voice's Ed Reed, EY's Tim Calver and ITM Power's Graham Cooley put the hydrogen industry under the microscope and ask the question, is enough being done to support it?
"Not all hydrogen is created equally"
Like many aspects of the energy transition, the debate around the future role of the superfuel is far from unanimous.
As Reed points out, "not all hydrogen is created equally" and the technology is separated into two primary camps; blue hydrogen and green hydrogen.
The former involves "reforming natural gas" to make the fuel, with emissions created during production abated using carbon capture and storage.
On the flipside of that, green hydrogen is produced through the electrolysis of water, with the energy supplied coming from renewable sources.
Cooley said: "The world uses energy in two forms; electrons and molecules. The only net zero molecule is hydrogen.
"What you have with green hydrogen is a direct, clean replacement for fossil fuels."
Calver highlighted that, currently, Westminster wants both green and blue fuel to be part of the renewable energy mix.
The UK has "some quite favourable structural advantages" for producing both types thanks to its oil and gas and offshore wind industries, as well as its geography.
Calver added: "In the long term, blue and green hydrogen will indeed compete for the same markets and eventually they can compete on cost and potentially quality too."
On the ability of hydrogen to help the UK hit its net zero goals, Cooley, who joined electrolyser producer ITM power as chief executive in 2009, is clear that one type will have to be prioritised over the other.
"Green hydrogen is net zero, blue hydrogen is not", he said.
He added: "You can't get complete capture, you continue to use natural gas infrastructure, which inevitably leaks, and you then have the problem of what you do with the CO2. Are you going to store it off the coast of the UK, in which case somebody will have to take liability of that for years to come."
"Green hydrogen can be a direct replacement for grey hydrogen"
One of the main challenges for the hydrogen sector now is establishing large-scale demand for the fuel.
As Calver points out, established electricity markets meant that when offshore wind was first deployed, "there was no question about the demand for it".
Looking at initial entry markets for the fuel, Cooley identified industries that rely on grey hydrogen, which is made using fossil fuels, as the obvious choice.
Europe currently uses 400 terawatt hours of grey hydrogen a year, a significant proportion of which is used to produce ammonia, which is then used as a fertiliser in agriculture.
Cooley said: "Green hydrogen can be a direct replacement for grey hydrogen and can be implemented very rapidly. For instance, you can deploy an electrolyser and put the green hydrogen directly into the refinery as a substitute."
"There's a lot of appetite for investment in hydrogen"
As with most things in life, a large amount of the debate around decarbonisation comes back to money.
If large swathes of the heating network are going to be powered by hydrogen, be it green or blue, in the coming decades, then who is going to foot the cost of kitting homes out with new boilers?
As part of its policy paper, the UK Government said the growth of low carbon hydrogen production could deliver £4 billion worth of private investment by the end of the decade.
Calver is optimistic that the private sector will step up to the plate and help foot a large proportion of the decarbonisation bill.
He said: "There's a lot of appetite for investment in hydrogen and in the energy transition more widely. Generally, I think there are some important conditions for success, which relate to clarity of business models and recognising some of the specific challenges facing hydrogen.
"We're going to need to see industry standards and processes change and develop. That will create an overall belief that there is a strong and valid policy framework and that the industry is moving into a position of confidence.
"There's more than enough funding available within large companies and institutional investors to deliver that government ambition."
It is hoped that current ambiguity around business models will be cleared up in the UK Government's hydrogen strategy, which is due to be released in the coming weeks.
The document will include incentives that will be rolled out to encourage the deployment of green and blue hydrogen, including contracts for difference auctions.
Indeed, Cooley said that he expects 2021 to be the "most exciting" year for hydrogen energy yet, with oil and gas majors potentially making moves into the sector.
He added: "With the right business models in place, private money will flow into hydrogen – the capital markets are now incredibly well informed about the industry. It's all about getting the right incentives in place."
---
Cooley and Calver's buoyancy and positivity about green and blue hydrogen's potential to revolutionise the energy industry is heartening.
The UK Government's target of 5 GW's of low carbon hydrogen production by 2030 is an ambitious one, especially when you consider there's now less than nine years to do it.
Questions around long-term business models, green hydrogen energy demand and wide scale private sector financing remain.
Industry thrives on clarity and providing that, sooner rather than later, will be key in getting the ball rolling.
---
EY Insight from Tim Calver
"The market is eagerly awaiting the Government's Hydrogen Strategy, including the position on hydrogen business models and incentive mechanisms, which will be key to unlocking the targeted investment.
"In an international competition for capital, the UK needs to move with pace and clarity to deliver on its ambition and establish itself as a leader in blue and green hydrogen production."
---
Next it's the turn of Anne Falchi, value for money program manager at the Sizewell C power station, and Chris Lewis, EY UK's infrastructure lead, to join Ed Reed as the team don their radioactive suits and focus on Point 3 – 'Delivering New and Advanced Nuclear Power'.
Subscribe for free to the 10 Point Pod series and listen to the hydrogen episode in full.
Catch up with last month's offshore wind installment here.
Recommended for you

BP hits record profits and rolls back on speed of oil and gas withdrawal