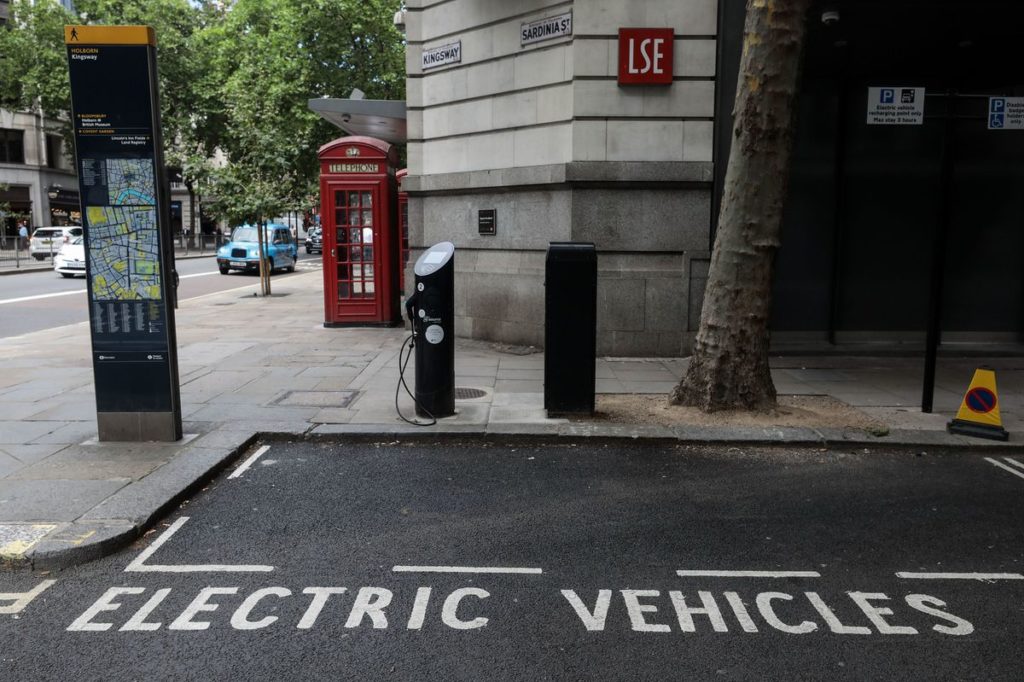 For the majority of people, the most obvious impact of the energy transition will be on transportation.
Decarbonising cars, vans and lorries will rely heavily on the support of the general public, with the cost of many large scale changes likely to fall on the consumer.
Last year, there were around 32 million cars on the UK's road network, about 300,000 of which were zero emissions or hybrids, according to the RAC.
And with the UK Government planning to wind down the sale of new petrol and diesel cars and vans by 2030 there's a significant gulf that needs to be breached.
In this, the fourth in a series of discussions picking apart the UK Government's 10-point plan, Energy Voice's Ed Reed is joined by Maria Bengtsson, EY's lead for electric vehicles, and Robert Llewellyn, Fully Charged presenter and former TV star, to set out how the UK can accelerate the shift to zero emission vehicles.
"What will it take to bring them into the prime time?"
In some regards, electric vehicles (EVs) are already cheaper than the classic petrol and diesel cars that currently dominate the roads.
According to Direct Line, the average lifetime ownership cost of an EV is £52,133 compared to £53,625 for the equivalent petrol car, with the zero carbon models coming up trumps in annual tax and maintenance.
However, steep initial costs, combined with 'range anxiety', means there is still a "really long way to go" and, without a combination of technology, financing and government support, the UK might not get to a "satisfactory situation", said Bengtsson.
In order to encourage uptake of low emission cars, both Bengtsson and Llewellyn said that dispelling the untruths around the technology would be key.
Llewellyn described 'range anxiety' – the fear that a vehicle doesn't have the required fuel to reach its destinations and a criticism commonly levelled at EVs – as a "total myth" and "corporate brutality of a fairly high level".
He said: "The term range anxiety was originally created by the General Motors PR team when they withdrew the EV1. It's historically documented – it's not a fantasy of electric vehicle fanatics! They've since backed down and they now make the Chevy Bolt in the US.
"About 2,500 people run out of diesel and petrol on roads in the UK every day – it's normal. If you ask the AA, what's the primary reason they have to go out to a call, it's because people have run out of fuel."
Bengtsson added that the electric vehicle market is awash with "urban myths", specifically around the reliability of charging points.
She said: "That's in the hands of the infrastructure owners and it's up to them to convince the public that it's working when you need it. There are a lot of apps nowadays that you can use to see where the nearest EV charger is – in a way, you're much better off."
"My real worry about hydrogen is the energy usage"
Though the zero emission vehicle market has largely been dominated by EVs in recent years, it isn't the only option being explored.
As was discussed in point two of the 10-point plan, hydrogen could also have a fundamental part to play, especially in the decarbonisation of larger machines like aeroplanes, boats and lorries.
However, there is a real debate raging currently about whether it will ever prove cost effective for commercial cars.
Bengtsson said: "I used to be slightly more hesitant about hydrogen, but it definitely has some advantages if you can make it work. It doesn't need the same raw materials and production capacity as batteries, and it use similar infrastructure to petrol stations. In that sort scenario, I can see how it would coexist with EV infrastructure charging.
"It'll probably develop first around contracted situations like buses and heavy transport, where you have a captive like infrastructure system. Once you've built that out, it could have a role for passenger vehicles as well."
Llewellyn, while agreeing that the fuel is likely to be pivotal in heavy transportation, says there's a lot of people that are "extremely dubious" about hydrogen fuel cell cars.
He said: "I will be so happy if there is a change in the technology and it makes them cheaper and more affordable – at the moment they are very expensive.
"My real worry about hydrogen is the energy usage and where it comes from. We are looking at a four to one energy cost – you put 4 kilowatt hours (kWh) into splitting water and get 1 kWh of hydrogen out. You can't help but think if you put that 4 kWh into a battery, you're losing some because there's always energy loss, but not that much.
"I've got no worries about it not being safe, you're not going to get a Hindenburg – it's just the complexity. I'd still be really happy to be proved wrong."
"A new golden age of British manufacturing"
In the past few decades, the decline of UK industry has been a popular theme of political, social and economic debate.
Though the reasons for it are myriad, Westminster's hope is that the 10-point plan can reverse some of the trends to create, as Reed calls it, a new "golden age of British manufacturing".
Llewellyn described developing an established domestic supply chain as a "devastating challenge" which has been exacerbated by the UK's withdrawal from the European Union.
Bengtsson added: "Big scale type industry usually likes to keep the supply chain fairly close to where the manufacturing plants for their final project is. I don't want to sound negative, but I do feel a bit like it's probably more of a defensive play for the UK than a huge positive opportunity.
"There's loads of innovative, small scale companies but for them to be able to flourish and really develop, they need larger companies."
---
By the time 2050 rolls around and the UK has reduced its emissions to net zero, the UK's roads will be buzzing with vehicles that would have been unimaginable when the automotive industry was born at the start of the last century.
And while the government's commitment is clear as laid out in the 10 point plan, the mass uptake of zero emission vehicles also requires a "carrot and stick" approach to mobilise the private sector.
It will also involve industry and experts thinking outside the box. As Llewellyn said, a system could arise where firms and individuals can sell their electricity back to the grid when they're not in use.
He added: "In 10 years' time, we could be sat here talking about powering the country on cars. Everything else was turned off, it was a cold night in the winter and we ran the whole country off a load of cars!"
There are a number of issues in the industry that need to be plugged, especially around cost and infrastructure, but as automotive giant Henry Ford famously said, "don't find fault, find a remedy".
---
EY Insight from Maria Bengtsson
Transport remains the largest source of carbon dioxide emissions in the UK, accounting for 34% in 2019 according to government figures. As such, decarbonising transport is key to achieving the government's target of cutting emissions by 78% by 2035 compared to 1990 levels.
Electric vehicles are quickly becoming more mainstream, but we have a long road ahead of us. For mass adoption to occur, all of the parties need to come together. Initially, the charge was led by enthusiasts who came up with inventive ideas and solutions which helped them overcome the inefficiencies created by lack of scale and common standards.
However, to turn these ideas into reality will mean finding ways of meeting the needs of all key players.
The current wave of innovation is transformational. But it isn't one organisation's endeavour – it is the coming together of multiples players, large and small, from cross sectors and industries that will deliver it. It is an opportunity for collaboration and partnerships between participants, new business models and new ways of working.
---
As we reach the halfway point of the 10 Point Pod the focus turns to Point 5 – 'Green public transport, cycling and walking' – when Reed will be joined by cycling and walking commissioner for Greater Manchester Combined Authority, entrepreneur and Olympic Cycling Gold Medalist, Chris Boardman MBE. 
Subscribe for free to the 10 Point Pod series and listen to the low emission vehicles episode in full.
Catch up with last month's nuclear edition here.
Recommended for you

Emerging markets, emissions and EVs